"This magnificent '80s throwback from singer/songwriter SHANNON CURTIS' GOOD TO ME, an album that began as a pandemic-era healing journal and ended up as a synth-pop suite, deserves to be a hit in this year of Kate Bush."

— Matty Karas, Music REDEF
CONTACT:
For media inquiries, contact Jamie Hill:
jamie@shannoncurtis.net / +1 415-412-9029
---
RESOURCES:
For downloadable MP3s: click here
---
"These days, it is rare to encounter something truly unique. Because of this, it took my brain a little while to land on the fact that I was, in fact, experiencing something genuinely original at the Shannon Curtis concert I recently attended.
One part musical performance, one part TED talk, and one part visual art installation, this concert is truly a unique experience. Shannon and her husband Jamie Hill successfully synthesize the elements of song, storytelling, and visuals in a way that is alternately entertaining, captivating, and expansive.

Shannon's willingness to be vulnerable, combined with her and Jamie's musicality, work together as an invitation to hear and see her personal story while, as all the best art does, also making us, the viewers, feel heard. The quality of the musicianship, the mesmerizing visuals, and the vibe of sheer authenticity make a way for the deeper thoughts and questions of the evening to wash right on into you. Which is to say, this is not an actual TED talk; no need to pack a note-taking device … just go. And be. Like me, you'll be all in."
---
"I really really like this new Shannon Curtis album, start to finish. The sonic palette, shot through with '80s atmosphere (the good kind!), is immediately engaging, and Curtis's prowess as a singer is continually on display.

'Good To Me' is the title track … the song feels both large and meditative at the same time. And from beginning to end, the songcraft is exquisite."

— Fingertips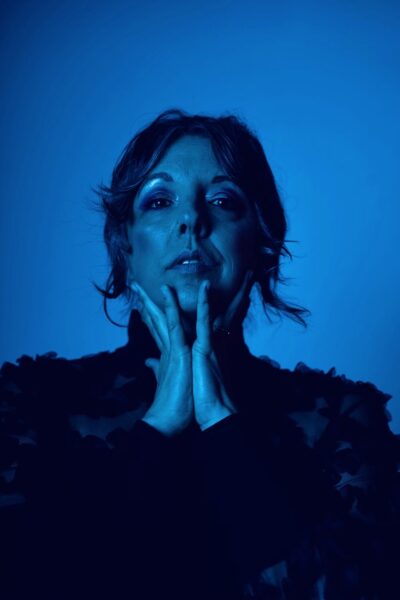 ABOUT Shannon Curtis & Good to Me:
How will empathetic people survive the troubles of this time? How do we rescue our overburdened spirits from overlapping disasters such as rising fascism and climate collapse? And from where can we summon the power to heal ourselves, our communities, and the planet?
These are the animating questions behind singer, songwriter, and storyteller Shannon Curtis's new album and show Good to Me — Curtis's 10th studio album in as many years.
Confronted in late 2021 with near-paralyzing anxiety brought about by the increasingly fraught state of the world, Curtis aimed her angst at her journal. Using tools she acquired in 12-step recovery, she set out on a quest for self-healing, with the intention of nurturing her personal sense of peace and agency in a world on fire.
The journal entries became 80s-inspired synthpop songs, influenced in equal measure by the textural angularity of Kate Bush, the Blade Runner-esque futurism of Vangelis, the stripped-back propulsion of Yazoo, and the hopeful joy of OMD.
The result is a song journey that took Curtis through a practice of identifying failed coping mechanisms ("From the Inside Out"), coming to terms with radical acceptance ("Be With What Is"), learning to trust her inner truth ("The Silent Sea"), and reconnecting to her serenity and power ("I Am") — even as the world continued to burn.
The extended Good to Me album project aims to illuminate a path for others to undertake this same journey for themselves — complete with a companion book and scripted podcast coming in 2023.
Although Curtis has been making music for 25 years — first as the frontwoman for a Christian-lite rock band in her twenties while a pastor's wife, then as a chanteuse divorcée composing broken-hearted love songs after leaving both her marriage and her religion — she found her stride when she stopped trying to "make it" and instead leaned into the community of people that had formed around her music over the years.
Curtis subsequently spent close to a decade performing intimate house concerts all over the United States, each one hosted by a member of her community of supporters. The book she published in 2014 to help other artists do the same debuted at #1 on Amazon's Music Business Best Sellers list.
Curtis's community had shaped her approach to live performance in unexpected ways; as she realized during her house concert tours the power her music had to help people find deeper connection with themselves and one another, it began to shape her writing as well.
Her first widely visible success with this new mode of writing as intentional act of service came with 2015's viral crowdsourcedvideo "I Know I Know," which featured clips of fans sharing their experiences with mental health and other personal struggles. The wider exposure from "I Know I Know" led to Curtis's appearance on a TED stage, which helped give birth to her signature live performance style: a marriage of songs, theatrical storytelling, and score, bringing audiences along on a narrative journey of self-discovery.
The pandemic gave Curtis renewed resolve to use her music as a way to engage her community in connection and healing; it also gave her more time at home to explore and hone a new musical direction, a process which saw her teaching herself synthesizer and drum-machine programming and taking on most of her own production.
The first fruit of this experimentation was her 2021 album 2020101, for which Curtis did extensive story-collecting research in her online community regarding their experiences of pandemic life in 2020.
Curtis's new sound generated some new results: the songs "One Thread" and "Breaking Ground" from 2020101 were regional commercial AAA radio hits. This trend has continued with the title song from Good to Me, which spent three months in the listener top 5 on KBGE in coastal Oregon.
Working with her husband, producer/mixer Jamie Hill (Jens Lekman, Chris Bathgate), Curtis used the pandemic-induced touring pause to reimagine once more her approach to live performance. With the release of Good to Me, the pair are moving out of living rooms and backyards and into theaters and performing arts centers as a two-person synth-pop band, complemented by a dramatic storytelling experience surrounded with enveloping video art.
Good to Me is out December 2, 2022 on Curtis and Hill's longstanding DIY label Saint Cloud Records, which the couple runs from their home in Tacoma, Washington.
###