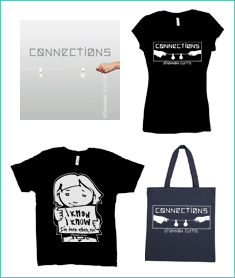 Help bring CONNECTIONS to the world!

Thank you so much for visiting my website. The reaction to "I Know I Know" over this last week has been overwhelming and beautiful. To see so many people interacting with each other and sharing what they're dealing with … it's utterly humbling.
I am a completely independent artist. My husband Jamie and I are doing all of this ourselves, out of our little house. We don't have a record label. We don't have management. This is a true grass-roots thing that's happening. It's overwhelming and it's amazing and we could not be more grateful.
If you like what we're doing and you want to help support it, we currently have a fundraiser going on for my upcoming new album CONNECTIONS. Please contribute. We have cute tees and totes that I silkscreen individually by hand, and a bunch of other fun stuff. Whatever I raise I am putting directly back into getting this message out into the world - and we're donating a portion of all 'I Know I Know'-related proceeds to the highly-rated Depression & Bipolar Support Alliance. If you want to participate, THANK YOU – see below. You can get on my email list above – I can keep you up to date on the new album that way. Regardless, thanks for being here. It means the world. Love – Shannon
CONNECTIONS is a reflection of the fact that I'm committed to running my life and my career in direct partnership with the community of people who support my music. I do what I do with you and for you, and and I could not do it without you.
Putting out an independent album is a huge undertaking. It takes a bunch of time and a bunch of resources. We are very nearly there with CONNECTIONS, but I'm going to need your help to get it all the way there.
So I'm asking you to please help us by supporting our "Bring CONNECTIONS to the World" fundraiser.
THE FINAL STEPS
1) In the next few weeks, we'll be finishing production. This is the hands-on "making the record" phase – it's the most time-intensive and costly part of the process. I would say that by the time we're finished, we will have invested 40 to 50 hours in the writing, producing, recording, mixing, and mastering of each of the 10 songs on this album. My husband Jamie and I have fronted all the costs ourselves up to this point, but we have a little way to go yet before everything's complete.
2) After that, the album will go to manufacturing, where the physical product will be produced. As with my previous albums, we're crafting a really gorgeous package, with deluxe fold-out artwork, photos, and all the lyrics.
3) We're making a companion book to go along with this album! This is a new thing for me. This book will include writing I've done about the meaning behind each song, plus photos from the writing and recording process. But more importantly, it will also have an interactive element, in the form of journal prompts and space for you to write about your own thoughts and experiences related to the topic of each song. This is going to be really cool.


OUR GOALS
GOAL 1: The minimum amount we need to raise is $5,000. This will help support us while we finish making the album, and will pay for the final product to be pressed on CD. Goal 1 reached April 20th! Thank you!
GOAL 2: If we're able to raise $8,000, we'll also make a retrospective compilation album of all of my early recordings, including never-before-released recordings of the very first demos I made as a solo artist. These are songs that none of you have heard, with the exception of the 12 or so people who came to see me at open mics when I was just starting out in Sacramento back in 2006. This is super-rare and exclusive material, and it won't be released digitally. It'll be available only on CD, and I'll send one to everyone who's given $20 or more during this presale. Goal 2 reached April 20th! Thank you!
GOAL 3: If we can raise $11,000, we're going to press CONNECTIONS on vinyl! It's been a dream of mine to make a vinyl record for the last few years, and since vinyl is making a huge comeback in the physical music market, we want to be a part of it. If we reach this goal, I'll mail a copy of the vinyl record to everyone who's contributed $100 or more during the presale. Goal 3 reached April 24th! Thank you!
And GOAL 4: If we can manage to raise $15,000, we will hire a top-flight publicist to help us get the story of CONNECTIONS out to a broader audience. It's already gotten a viral start with "I Know I Know" … wouldn't it be amazing to take our message to thousands, maybe millions more people out there who need to hear it?
THANK-YOUS FOR OUR SUPPORTERS
Take a look to the right at the ways in which we're saying A BIG THANKS to all our supporters.
Any way that you are able to participate in this effort gets us that much closer to our goal. Imagine this: if just 500 people contribute $10, then we'll meet our minimum goal.
Amazing, right? I think we can do this. So let's do it.