Shannon Curtis – Official Website
Get your tickets to the filming of my first concert film!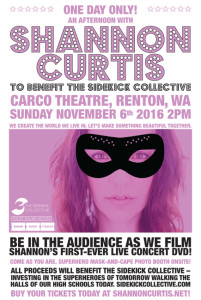 Tickets are available from Brown Paper Tickets — click here!
Upcoming Shows + Events
Carco Theater
We're taking over a theater to the south of Seattle and WE ARE FILMING MY FIRST CONCERT FILM! And we want YOU to be in the audience!! Doors are at 2pm, concert + filming begin promptly at 3pm. Also: this concert is a benefit — proceeds are going to support The Sidekick Collective: a non-profit on a mission to invest in the superheroes of tomorrow who are roaming the halls of our schools today – by giving seed grants and support to high school students with big ideas on how to make the world a better place.
House Concert Tour 2017
The 2017 House Concert Tour comes to homes across North America starting June 2017 through September 2017. Would you like to host a show in your home? Email skc@shannoncurtis.net for information.