The tour was simply amazing — all of you who came to shows and shared your time with me made this one the best one yet. Seriously, this keeps getting better and better, and I have you to thank for that. There is so much to tell about the tour, so what I've done is create a list of awards for the Best Of Tour. And the winners are …!
Best view from the Jetta window: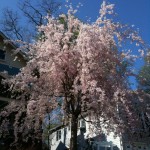 Virginia trees a-blossoming. See cherry blossoms, example right.

Best unexpected surprise for GREAT SHOW: It's a tie! Between Boston, Mass. and Kent, Ohio. You know, as in the original Tea Party town and the Kent State Massacre! Special thanks to the amazing and darling Leah Lou for putting together an awesome show in Kent.

Most inspiring moment: My conversation with retired military personnel, Jess and Terra, after a show in St. Louis. These gals told me about how they listened to my music while they were stationed in Iraq and how it helped ease their minds in the midst of the war. I nearly cried! Thanks for sharing, ladies.

Best show moment captured on video: The incomparable Summer Osborne and me duetting on "Why Don't You Stay?" in St. Louis.

Worst Day: I got stuck in amazingly horrible traffic driving from DC to NYC, my car was overheating and running out of gas, I had to pee so bad I almost peed my pants, and I missed my show in New York City. I actually did cry at that one.

Best comeback: Singing two songs on the sidewalk outside The Living Room to NY fans who stuck around until I *finally* arrived at the venue after said missed show.

Most obscure show location: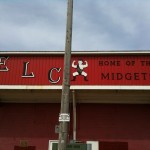 Estherville, Iowa. At Iowa Lakes Community College, across the street from the local high school, which is "Home of the Midgets." I'm not kidding. I took a photo for you:
New musical discoveries I hope you'll see me sharing the stage with again in the near future: Summer Osborne and Jenn Cristy.
Best show performed without a microphone: The House Show in Reston, VA — because it was in a living room! (Do YOU wanna have a Shannon Curtis concert in YOUR living room? Email me … we can make that happen.)
Favorite new band that also features a girl with whom I was in high school choir: Static of the Gods, Boston, Mass.
Best new doggy and kitty friends with whom I stayed on tour: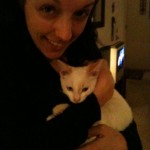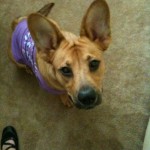 Lady! (Doggy friend.) And Oliver! (Kitty friend.)
Let's give a round of applause to the Best of Tour! (And the crowd goes wild …) As always, that I am so grateful and utterly thrilled to have your support.
Lots of love — shannon