We're thrilled to announce that pre-orders for the "Brightest Light In The Room" maxi-single are now open! Click on over to the store to reserve your copy and get a download of the new song RIGHT NOW.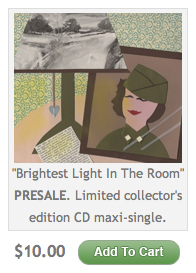 Here's what you'll get:
First thing you'll get is an instant download of the original studio recording of "Brightest Light In The Room." Then, prior to the official single release in mid-May, you'll get a fun package in the mail that will include:
– a gorgeous limited-edition, serialized, hand-stamped collector's CD single
– an audiophile CD of the original version of "Brightest Light In The Room," plus 4 remixes and radio, instrumental, and a cappella versions
– an exclusive B-side, "Book of Fiction"
– an original art piece created for "Brightest Light In The Room" by artist Katie Zeigler
Why you should order yours today:
#1: You'll be supporting me in a BIG way. This is the first of a few singles we'll be rolling out in preparation for a full album release later this year, and by ordering your copy today, you'll be supporting me in our effort to bring these new, beautiful songs to radio, press, and new fans all over. We do all our own publicity and promotion, and your support helps us get the word out. We need you!
#2: The ONLY way to get most of these tracks is to buy this CD! Not all of these tracks will eventually be available on iTunes. It's now or never. So hurry and get your limited-edition copy!
#3: The first hundred pre-orders will also receive a bonus instant download of "Book of Fiction". This is one of the most gorgeous recordings I've ever made, and it's brand new. So have you clicked the purchase button yet? Hmm?
How you can share the new music right now with your friends:
Come on over and stream "Brightest Light In The Room" on the new jukebox at shannoncurtis.net or on Facebook. Click SHARE and post the new song to your Facebook page for all to hear. Easy as pie.
I'm so appreciative of the loyal support you've offered me throughout this crazy musical adventure, and I couldn't be more excited to share this new music with you. I think you're going to love it.
xo – shannon