Hello, love birds!
Are you thinking about what you're going to do for that special someone this Valentine's Day? Well, I have a couple ideas for ya: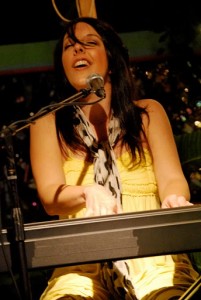 I Can Be Your Singing Valentine! Instead of jewelry or chocolates this year, how about commissioning a personalized love song for a loved one! Here's how it works: you send me a little information — personal memories, names, or things you just want to say — and I will write a Valentine's song for you that is unique to you and your loved one. Maybe you have some lyrics or poetry that you'd like for me to put to music — I can do that, too! I will record the song — me and my piano — and send it to you on a CD and/or an mp3 that you can give on Valentine's Day. Or a birthday or anniversary — whatever you like! The price for a personalized love song is $300, payable through credit/debit card on PayPal. If you're interested, email me and we can get started on your song right away.
Send a Little — Or a Lot — Of Love! I have a super-cool, completely revamped "Shop" page on my website, with a bunch of brand-new music and merchandise packages available for Valentine's Day. If you order any CD collection, T-shirt, or CD/poster combo package before February 5, I'll send you a handmade Valentine's Day card to give along with the CDs!
Let's spread the love! xo-shannon