What is Free T-shirt Monday?
Well, we want to give you a free T-shirt. (Limit one per order.)
But wait! There's more:
For every T-shirt we give away today, Jamie and I will also give $5 to the Fred Hutch Cancer Research Center's fundraiser, in memory of our friend Beth Caldwell, who died last month after living for 3 1/2 years with metastatic breast cancer.
Beth spent the last years of her life as a fierce advocate for research for metastatic breast cancer, the only kind of breast cancer that is 100% terminal, but toward which only small percentages of research dollars are directed. Beth was a co-founder of the direct action advocacy group MET UP for which I wrote a rally song to use at the annual die-in protest they stage in Washington, D.C.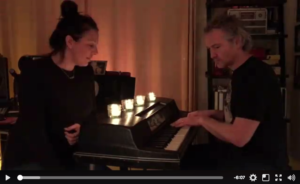 [ Last month, a few days after Beth's death, Jamie and I made a live performance video of the song, in support of the Fred Hutch fundraiser. You can watch it here. ]
From the Fred Hutch fundraiser page:
"Finding a cure for dying cancer patients meant everything to Beth. This fund will go specifically to Dr. Kevin Cheung, an MBC researcher at Fred Hutch who Beth knew and believed in. One of her last messages read: 'Get Kevin's research the money it needs!'"
We want to do what we can to help fulfill Beth's wish.
And we want to give you a free T-shirt at the same time.
Here's how:
You visit shannoncurtis.net/store,
and pick out your T-shirt design and size.
You pay for shipping,
then we'll send a free T-shirt to you,
and we'll send $5 to Fred Hutch Cancer Research Center.
There is a limit of one free t-shirt per order.
It's the honor system, friends, so thanks for ordering only one shirt.
Offer ends at 11:59pm on Monday, December 4th.
Oh and also! This is just the first of three "free stuff" days we have planned for you this month — so stay tuned for the next giveaway day, coming soon.