Did I mention that we've written a book? Well, we've written a book.
In fact, a new expanded second edition of it is now on the shelves. It's about how to successfully (and profitably!) do house concert touring.
(The above two links are affiliate links to Amazon; if you buy the book using one of those links, Amazon will give us an extra little commission, at no extra cost to you.) 
GET THE PAPERBACK FROM OUR STORE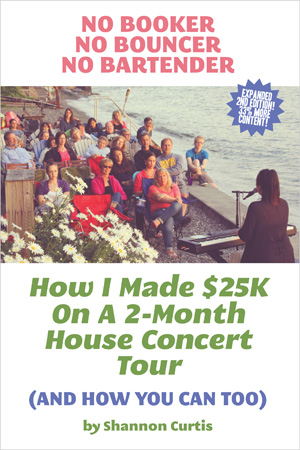 In 2012-2013 we got so many people asking how we do what we do that we decided to make our method available as a comprehensive step-by-step manual. It's our hope that we can help empower other artists to achieve the same artistic and spiritual fulfillment that house concert touring has brought us.
Topics covered include:
Who can house concerts work for?
Why are house concerts so effective?
Hyperlocalism & superfans
How to select and prep your hosts
How to set up the performance space
Event setup
Ideal event flow and timing
How to successfully monetize your concert
Merchandise strategies
Equipment suggestions
NEW SECTION: How to build a whole tour of house concerts
Raves:
#1: Amazon Music Business Best Sellers
#1: Amazon Music Business Hot New Releases

"Shannon Curtis captures in this book the essence of what it means to be an independent musician: 100% control of your career and 100% of the benefits. Curtis's alternative model for touring cuts out the middleman, and puts the power (and money) back in the hands of the artists. She's a true entrepreneur, and an inspiration for any artist looking to become successful on their own terms."
– Patti Silverman, SF Music Tech
"As an independent artist who's done nearly 100 house shows, I'm here to tell you that anyone who's considered going that route needs this book. Of all the crap we waste money on as artists, nothing I can think of will give you the return on investment this book will. Shannon gives you a staggering level of detail. Stop reading this and read the book, like, now."
– JT Spangler, independent artist, Nashville
"I just wanted to thank you. I have been expanding my booking schedule and using house shows more frequently and leaning heavily on your model, and it is literally changing my life. I am making more money, and finding myself more fulfilled and encouraged than ever before while building a better fan base than ever before. I can't tell you how much I appreciate it. Thank you."
– Bradford Loomis, independent artist, Seattle