You may be wondering about the title of this post. Well, first of all, I figure it's probably a good idea to quote Bon Jovi whenever possible. Second, I am super happy to announce that we have finished recording about half of the songs that will appear on my first full-length, full-production record! Thus, "we're half way there." Annnnd, that's pretty much where the mid-eighties hair band comparisons stop.  🙂
The new songs are sounding — I don't even know how to explain this fully in writing — SO FREAKING AMAZING. I am really, really excited to share them with you, and I hope that will be sometime later this year. My ridiculously talented husband, Jamie Hill, is producing and recording this album. It's the first time since we've worked on music together that he's fully bringing his own musical personality into the production, and the result is a pretty sweet treat for the ears. I can't wait for you to hear.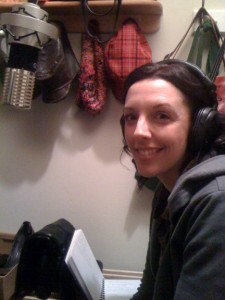 Join me in the closet — er, vocal booth
For those of you who are already connected with me on Facebook and Twitter, the new record news is not really news to you at all –I've been posting a bunch of tidbits about what song we're working on, or photos of whomever is over here making a guest appearance on the record, or what nickname I've recently earned in the studio. (Heh. I have to say, I kind of like it.) But if you're not already hooked up with me on Facebook or in the Twitterverse, come on over and join in the fun! In the meantime, here are some photos from a few sessions …
Half time shows
Got plans for the Superbowl this weekend? Mine involve taking a half time break from making this record, packing the Jetta, and hitting the road for a tour of the ch-ch-ch-chilly midwest for nearly 3 weeks! Check out all the dates on my tour page and be sure to come see me if you're out there! There will be no wardrobe malfunctions, at least not at the all-ages shows. 😉
You know me as the gal who plays the piano and sings love songs; but it's important to keep things interesting, right? To that end, a few weeks ago, I co-wrote and recorded the lead on a hard rock song that is going to be featured in ABC's Extreme Makeover: Home Edition sometime in the next couple of weeks. I'm not sure of the air date just yet, but I'll be sure to post it on FB/Twitter as soon as I do. Totally. Extreme. Rawk on.
"The Intern"
In case you were curious, that's my new nickname. I guess because I'm usually the one in charge of wrapping cables and fetching things. I thinking about giving myself "Studio Intern" credit in the liner notes of this album. Just as long as it doesn't get the producer in trouble — ah hem. 😉
Lots of love to you. Stay in touch and I hope to see you soon!
xo — shannon