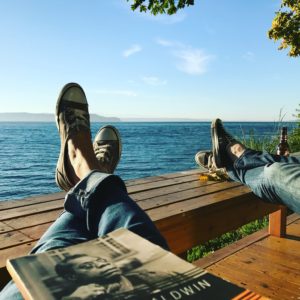 We originally had planned our tour to wrap up at the end of September. But by the time we finished our first run through California, Boise, and the Pacific Northwest, we realized that there might be enough interest in those regions for a bonus round, that we extended our tour by THIRTEEN more shows. We took several much-needed days off posted up at the home of dear friends near Seattle, and then continued on for the last push of what ended up being a full 4 months on the road. Whew!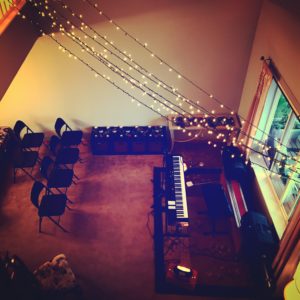 First stop on the bonus round was a return trip to a home we visited earlier in the summer, in Marysville, Washington. This time, the show was co-hosted by a few different friends there, and it was just a lovely night. After having not performed the show for almost 2 weeks, I was a little nervous about how I'd do: would I remember the songs? would I be able to bring myself emotionally to the show in the way I needed to? What happened was that, first, I remembered all my parts! Hooray. But second, having had some space from the show gave me an opportunity to have a fresh perspective on the whole thing — on the words I was singing, on the meaning behind each note and syllable. What made that possible — without a doubt — was the absolute warmth and connection I felt with the crowd there that night, led by the big open hearts of our hosts that evening. It was the most perfect re-entry into show mode that I could have dreamt up.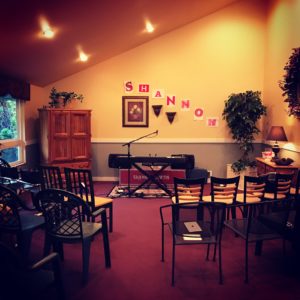 The following night, we drove down a little 2-lane highway all the way to our next stop in Woodinville, Washington. Our first-time host that night has been to countless other house concerts of ours in the greater Seattle area. And I was thrilled when she jumped at the chance to be a part of our bonus round. Her condominium complex has this super cute community room, which served as a warm and comfy spot for us to gather that night. Afterward, we went out with our host and a couple other friends to a local hot spot for the biggest, juiciest late-night burgers ever. Oh my gosh, I'm getting hungry now just thinking about them. Mm!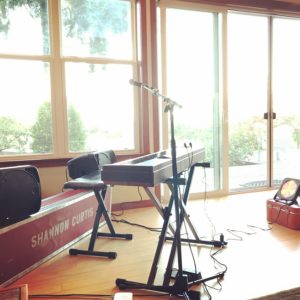 Our show the next night was down the road a little further in Federal Way, Washington, at a house that serves as the offices and meeting place for the education policy non-profit founded and run by our host family. They call the place The Farm because of the sprawling grounds overlooking the Puget Sound and the actual barn on the property (which we hear is where we'll be doing the next house concert with them — fun!). The best part about the night was getting to know what this family is all about and learning about the work they do. It was so inspiring to see this whole family — mom, dad, adult children — banding together to do their life's work, work that aims to make the world better through their research in education. I'm really glad we got to know this clan, and I hope we get to be a part of what they're doing in some way in the future.
And then … it was my birthday! If you're going to spend your birthday working, it really helps if you love what you do. And I do love what I do. And it helped extra that we did a show with a dear friend in Portland, Oregon that night, a woman I met years ago because — and this is really funny — one of each of our parents met on an online dating website. Ha! I think they only went out on a couple dates, but I got a wonderful friend out of the deal, one who feels like a soul-sister-kindred-spirit in so many ways. The night was magic. Her living room was packed to the gills with all of her friends, and you could hear a pin drop in there during silences in the performance. We were so very much together that night. That's exactly what I aim for and long for every night; so it was wonderful to be given that gift on my birthday. And she made me a chocolate cake. With candles. I made a big wish.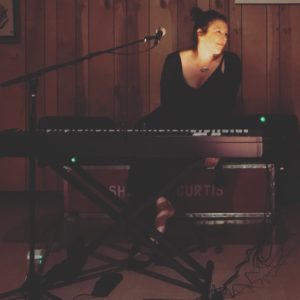 The following day we travelled over to the little town of Sheridan, Oregon, situated right in the middle of rural northwest Oregon wine country. It's beautiful out there — all vineyards and Christmas tree farms. Our concert setting that night was a first for us: the local Odd Fellows Lodge! It was all classic wood-paneled walls and service banners and green glass coffee mugs right out of the 1940s. Our crew there that night was small and intimate, and for both me and Jamie it became one of the most emotionally rewarding shows of the tour. After the music was over, everyone stayed and ate chicken fingers and homemade baked apples and talked and talked and talked. It was great.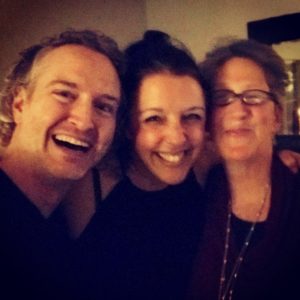 It took us a whole day to drive back south toward NorCal, and the next night we ended up at the most charming, lovely horse ranch in Fiddletown, California. Our concert that night was different than any other on the tour, because our hosts that night had invited us to come do a performance exclusively for a group of women who were gathered there for the whole weekend for a transformative writing retreat. Oh my goodness, what a treat it was to be there with those powerful women. The leader of the retreat is an absolute she-ro of mine, and it's hard to express my gratitude that she wanted us to come be a part of her thing, to share her shine with us in that way. I want to be to other women the kind of woman she has been to me.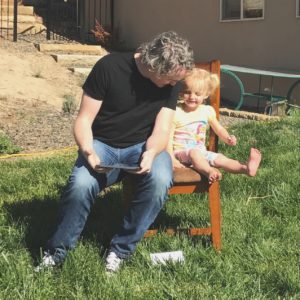 We didn't stay in California long, because the very following day, we hoofed it all the way back to Boise, Idaho! We are nothing if not dedicated to what we do. And perhaps a little nuts. Our show the next day at a beautiful spot perched up on a hill above the city was hosted by a woman who has been to a few other house concerts in Boise the last couple years, but this was her first time hosting. During setup and sound check, her amazingly adorable twin almost-3-year-olds were Jamie's "helpers." We had a lovely time getting to know them all better that day.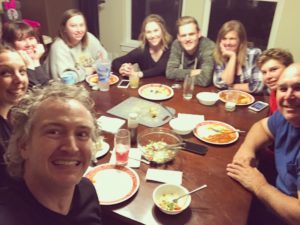 Our second night in the area took us just over the town line into Meridian, Idaho, for a show with a family we've only known online for the last couple of years. Two and a half years ago we did a video project for the song "What Happens When," from my album Connections, and we asked people to mail us pieces of paper with their personal hopes and dreams written on them. The theme of the song is about how vulnerable it feels to say out loud the things that we wish for. Well, this whole family participated in the project together, each sending in their own wishes. You can watch the video here. It was so incredibly fun and rewarding to finally get to share space with them. Over homemade spaghetti dinner after the show, no less. YUM!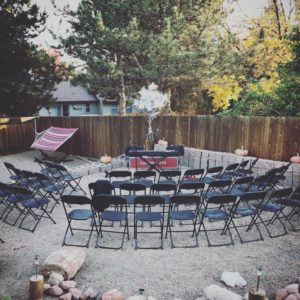 The next night we were back over the other side of the town line into Boise, Idaho again, for a show with first-time hosts whom we met through some of our dearest friends. They had the most beautiful setup for us that night in their lovely backyard. And then the show started, and the sun went down, and we all got SO COLD! I couldn't feel my feet by the time the performance was over. Lesson learned: when doing an October bonus round in Idaho, do the shows indoors! My favorite part of the night was the long and connective conversation that Jamie and I got to have with a man who came up to the pop up store afterward to talk with us. It was one of those moments where I felt so fortunate that we get to make meaningful human connections with people even in the midst of the cold, as a result of doing music in this way.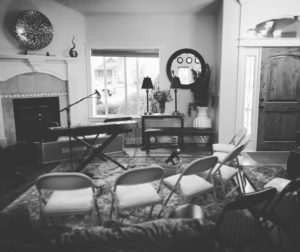 Our final night in the area was back over that town line one last time to Meridian, Idaho, where our first-time host helped us move the show indoors at the last minute because his lovely aunt was generous enough to have us in her living room. Our host's mom had flown in from California for the show, too, so it was really a whole family affair! And what a lovely family. We felt right at home with these people, and it was such a pleasure to share what we do with them. I can't think of a better way to end our Boise bonus round. This group of like-hearted people made us really look forward to going back.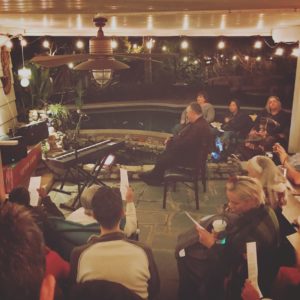 It's somewhat difficult for me to write about our bonus round night in Roseville, California. It was a return trip for us to this cozy back patio on this year's tour, and we had been eagerly looking forward to another night with this group of loving, wholehearted people — it felt it would be a kind of bookend to match the experience we'd had with them at the beginning of our tour, a pair of defining experiences that hemmed together the open-eyed and open-hearted nature of what we'd hoped this tour would be all about.
And then two days before we were set to arrive, I received a message from one of our hosts that her roommate — one of our other hosts for the night — had suddenly and unexpectedly died. She told me that she wanted to continue with the show, believing that to be what her friend would want us to do. And so the show did go on. We set a seat in the front row with the name of our friend who'd passed. And the message of shared humanity that we aimed to bring with the show became immediately, painfully, beautifully intertwined with the memory of her. Of how she had made us all feel more human when she was alive. Of how she made people feel seen and heard and loved. Of how fleeting life is, and how we must take every opportunity we have to honor the light in each other while we have the time. When we do, like we did that night, I believe we create and share sacred space. Rest in peace, Hope.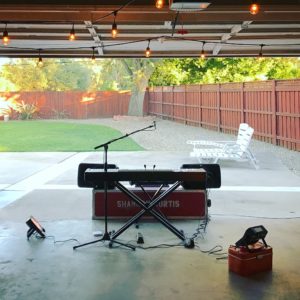 The following night we had the special treat of doing a house concert in the (immaculately maintained!) garage of one of my best friends on the planet, in Sacramento, California. She is a friend who was present and open and real with me in a crucial moment in my life — if she'd not shown up for me in the way that she did, in the moment that she did, I'm not entirely certain I'd be here today. And I most certainly would not be the person I am today without her. Somewhat inconveniently, I found myself sort of overwhelmed with gratitude for all of that smack-dab in the middle of the show, and I couldn't keep the tears from coming. I tried to play it off like it was part of the show. I'm not certain it worked, ha! But it was a really meaningful experience that my friend, who has loved me for so many years, is still so supportive of who I am and what I do. I'm a lucky woman.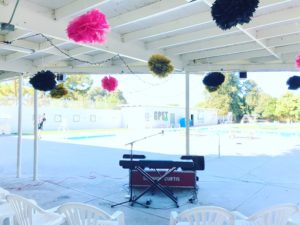 And then … it was our LAST SHOW. We'd done so many at this point, and traveled so many miles, and opened so many front doors and set up in so many backyards, and greeted so many friends and met so many new faces — that when it came time to drive to the final show, you would think that there would be some sort of emotional fireworks or a big rush of excitement or … something. But there wasn't. Instead, it felt like we took in one long, fresh, lung-filling breath — assisted by the beautiful day, the bright setting, and the warm reception of our last day's hosts in Concord, California — followed by a deep, clear, satisfying exhale. It was the perfect ending to our big adventure: a Sunday afternoon gathering of souls, where hearts connected, new friendships began. And at the end of our time, the sun gently started setting on the last bits of our post-concert conversations about life, and the state of the world, and the state of our hearts, and how we were going to continue to press on toward love together.
***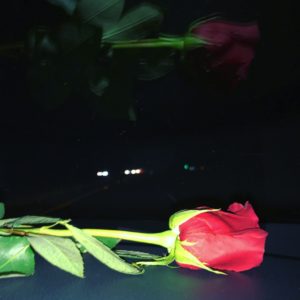 When we got into the car to leave that final show, I noticed that someone — I still don't know who it was — left this rose tucked in the wiper blade on our windshield. I pulled it inside and it rode on the dashboard all the way back to Los Angeles with us that night.
And looking at it there filled my heart with such gratitude for this:
We had intended, when we set out on this tour this year, to bring something to all of you.
We had mined our experience of a dark winter, we'd emptied our hearts on the page and the recording tape,
we'd crafted and written and rehearsed an experience that we hoped might resonate with you, or move you,
and give you something that might help you find what fills the space between things in a time when that space feels wide and deep.
And hopefully we did that here and there. Or maybe we didn't.
All I know is that what we brought with us
— with its thorny stem and red-hot center and all —
was exactly the thing we knew beyond a shadow of a doubt is what we were supposed to bring with us this year, and we did our best to remain faithful to that purpose.
But … that wasn't all that happened.
Over and over, night after night, town after town, state after state,
friend after friend, stranger after stranger
— you brought to us your thorny-stemmed, red-hot offerings as well.
You brought and shared with us your anguished grief,
your searching questions, your bright realizations, your newfound purpose,
your hope, your light.
You brought yourselves,
and we shared space,
and you pointed us toward what fills the space between things.
We call it love.
Thank you. We can't wait to see you all again in 2018.