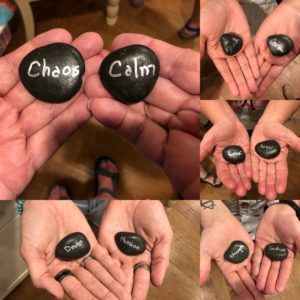 We kicked off the tour with a crew we absolutely love in Roseville, California. I can't think of a better place and way to get this all started — they received us with so much love and sent us off with so much encouragement for the rest of our journey.
And it was the first night of our "holding both at the same time" interactive project! Which I realized that night — based on the amazing creations of people who participated in it in Roseville — is something I need to document and share with others.
This picture here is the first of many beautiful contributions we've seen every night since. (If you'd like to see more collections from other concerts, you'll find them all on my Instagram feed @shannoncurtismusic.)
---
The next night, we were in Livermore, California, in the backyard of a woman I met nearly two decades ago on an airplane, who has been a friend through my worst days and who has let me see her heart in her rough times, and who has the best stories and the best laugh … and who, along with her sweet husband, prepared a beautiful space for us to share with their lovely, on-the-journey people.
---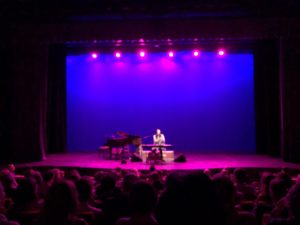 Yes, we're on a house concert tour, and no, this next concert — in Sacramento, California — was not in a house. It was our one theater show for the tour, and what a privilege to perform in such a spectacular space, for warm, open-hearted people, in support of songwriter-extraordinaire Shawn Colvin. It was pretty special to have so many friends who showed up in support of us that night, too. We felt ALL the love.
---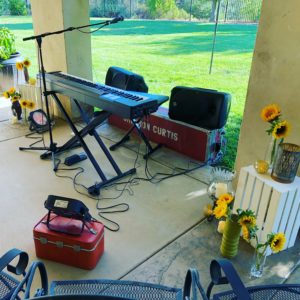 The day after the summer solstice, we arrived at the home of first-time hosts in Ione, California, where they'd set up solstice altars to flank my piano for the concert. It set the stage for what became a magical night — new connections sparked and sparkled in golden summer light with the lovely, loving people who filled the space. It was most definitely a cup-full kind of time.
---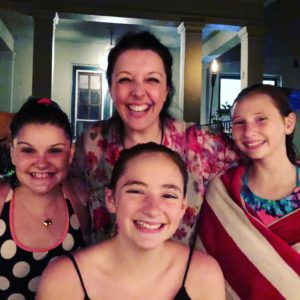 The following night we had a tradition to uphold: this photo, taken in the exact same arrangement, with these amazing girls, each year now for the last four years, in Stockton, California.
When it dawned on me that we'd stumbled into — rather, been invited into — a tradition with this family, my heart swelled with no small amount of delight and gratitude. And what an incredible honor, to be invited back and back and back into these dear people's lives. It tickles me to no end how lucky I am.
---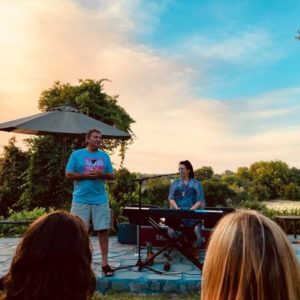 Just up the highway, at another first-time host's house, in Sacramento, California, we perched atop a bluff with the mighty American River flowing below. Souls arrived there with their stories in tow that night, hearts gathered to do something intentional with one another for a couple of hours, spirits generously gave their presence to each other and to us. It became a sacred space.
We had no idea how much we'd need the buoy of spirit they'd offered us that night, as on our drive back to our bed we came upon a single car accident that had happened moments before, and which, as we learned upon pulling over to help, had taken a life. Sacred spaces come in different forms. My heart felt full. And my heart felt heavy. Both at the same time.
---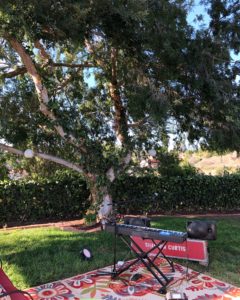 And then we drove all the way down to the south end of the state — to San Diego, California. Where under this magical tree we shared an improbable and beautiful evening of connection with a patio full of new friends.
Improbable but for the courageous heart of our host — who'd never met us before! — but who reached out about hosting a concert because a mutual friend had posted one of our videos and said nice things.
So … because of his generosity of love and her bravery of spirit, we got to be the recipients of the beautiful, whole-hearted presence of new friends. Sometimes this world and the people in it are really, really beautiful.
---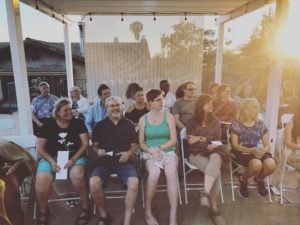 The following night, we went just up the road to Escondido, California, where our host successfully kept it a secret that the day we'd scheduled for her house concert was her birthday! So we got to have a surprise celebration with hummingbirds & summer air & warm smiles & tales of roller coasters (because she's part of a roller coaster club, obviously!). What a fun, life-loving group of people.
---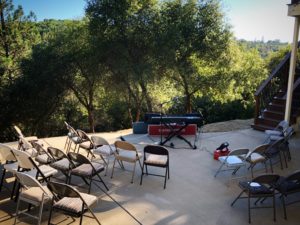 After a drive up I-5 that included at least a couple of visits to In-n-Out, we were back up north, in Placerville, California. Where we sat on the side of a mountain and where everyone who came shared and listened to stories. I heard a few that became the words on these stones. What an honor it is to be a witness to another's story.
---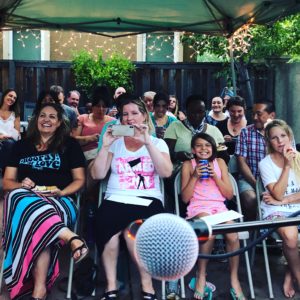 The next day, we drove over to Concord, California, for a history lesson: the front row was filled with tour t-shirts from years past and present, and they told part of the history we have with this community of friends — and how they've continued to invite us into their circle for a few years now, and how that generosity of spirit has allowed friendships to grow and new friendships to be planted. We already can't wait to see them all again.
---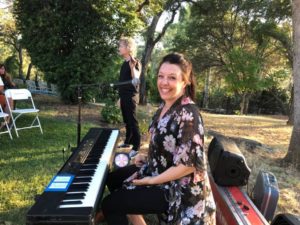 And then we made our way up out of the valley to El Dorado Hills, California. In the shelter of an ancient oak, we shared goodness, meaning, tears, and joy on an absolutely golden evening.
Our hosts beautifully, lovingly prepared the space for all of us — a preparation that has been so evidently cultivated over the decades of intention and openness with which they live their lives. You feel it in the warmth of their home, in the reflections of their friends. What an honor and privilege to be invited into the lives of humans like these.
---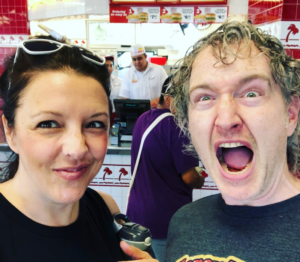 And that's when we left California … for now.
Episode 2 — Oregon & Washington! — up next.