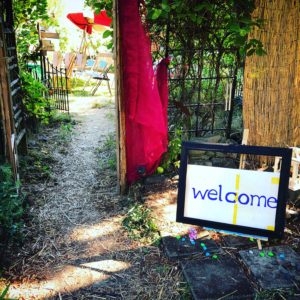 For our first Pacific Northwest show of the tour, we were welcomed here, to this secret garden in McMinnville, Oregon, where we've been so lovingly welcomed for several years now. We always look forward to rolling up to see our friends who live in and create this magical space. And our time there did not disappoint: we got to give hugs to our dear ones, and share hearts and dreams with a bunch of new friends. It was lovely. Even the birds joined in with their agreement.
---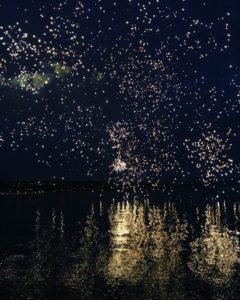 We took a day off on the 4th of July, on which we slept some (in our own bed, wow!), and drove a short distance to sit a long while with good friends and talk all night. The kind of talk that reminds you you're not alone and that love wins.
"Until we are all free, we are none of us free." — Emma Lazarus
---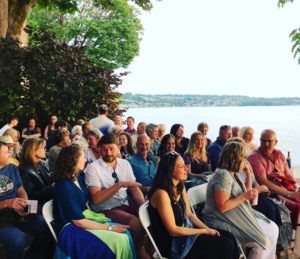 Back at it the day after the 4th, we set up on this patio overlooking the Puget Sound in Des Moines, Washington. The evening waves punctuated the songs and stories shared there. I hear there was an incredible sunset behind me, but all I could see was golden glow on these faces. Pure magic.
There are precious few things higher up on my list of "things for which I am profoundly grateful" than the friendship I get to have with the family who hosted us here. It's one of the most awe-inspiring parts of what Jamie and I do: that we are invited into the magic of absolutely amazing people's lives, that friendship is sparked, and that over the years the spark becomes a flame — life-sustaining heart-connections that that keep us warm and help light the path ahead.
---
The next night, we played a house concert in our new hometown (!!!), at the home of the family responsible for introducing us to it in the first place, and whose friendship eased our transition here in the most loving and welcoming way.
Two summers ago, when we rolled up to our hosts' house for the first time, it was the first time we'd really seen Tacoma, Washington, and we were like "heeeey Tacoma, how you doin?" And then last year when we returned for our second house concert with them, we stayed up late peppering them with questions about the city. And at this, our third house concert with them, it felt like less of a tour date and more of a homecoming — not just because we live here now, but because this family has become so incredibly precious to us, every last one of them.
---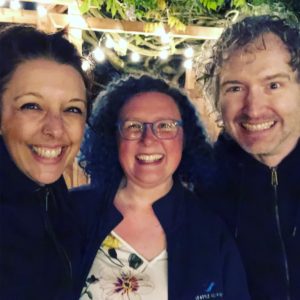 The following night, we gathered in a hidden garden (behind a real hobbit door!) in Seattle, Washington, with bright, creative souls, while the wind and birds chimed in with the stories and songs. All in honor and celebration of our fabulously blue-haired host's birthday, a special concert she arranged to benefit a wonderful local organization called The Greater Seattle Bureau of Fearless Ideas.
---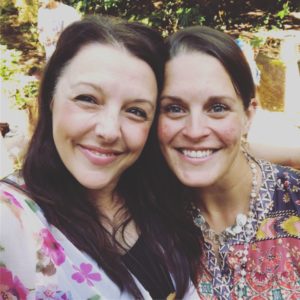 Next up, we got to do this house concert thing with one of my absolute favorite people on the planet … for the 6th time (!!!) … but this time in her beautiful new home with her awesome partner.
And what a special night. This sweet group of souls in Seattle, Washington totally went there with us that night: there was whole-hearted laughter, there were shared tears, there were breaking smiles on bobbing heads as we ramped up for the final chorus of Armed With Joy. How. Cool.
---
From the same night in Seattle, check out this photo that represents history. Yes, these bright souls are wearing vintage Shannon Curtis merch dating back to 2014; but also the history here is one of friendships made and built over that time as well. How *freakin lucky* are we that we get to have history with amazing people like this family?
---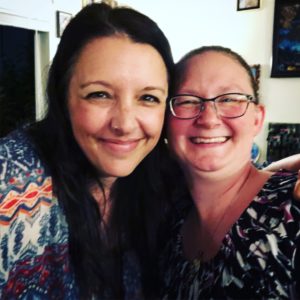 The next night we popped over to Puyallup, Washington. (And yes, I do know how to pronounce that word, like a good new Washingtonian!) Our first-time house concert host took a leap with us and invited us into her home and community for a concert, and then again around a post-concert dinner hang where we kinda got deep with each other about life. Which is so very much the good stuff.
---
The next day, we drove south to Beaverton, Oregon, and it was a really special day. We *finally* got to meet our friend Andie in person. And it. was. awesome. I can't tell you how full my heart was upon leaving the concert that night. Up to the brim. Spilling over the sides. Overflowing into puddles of smiles and love.
Here's how we got there: during our album fundraiser this year, one generous contributor chose a thank-you package that included giving the gift of a concert for a group of people who wouldn't normally get to come to a house concert. She asked us to choose the group. Our first thought was to see if we could bring a house concert to Andie's group home.
And so we staged a house concert in the backyard of Andie's group home, where we were joined by the clients, caregivers, family, and staff of a whole group of group homes in the Beaverton area. It was absolutely the most heart-filling experience. I don't think Jamie and I stopped smiling the entire time we were there.
Really big and special thanks to the woman who made this magical day possible. You are an angel.
---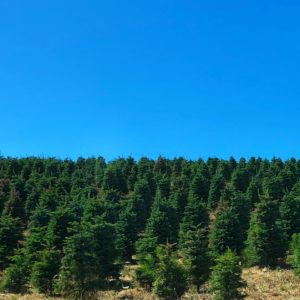 And for our final PNW show of this leg of the tour, we perched on a promontory above Sheridan, Oregon, surrounded by grapevines and Christmas trees, with two ghostly volcanoes visible in the distance, the bluest blue sky overhead, and a patio filled with friends — both grown-ups and a whole cadre of bright young girls, which was unexpected and awesome.
And the stars that showed up later tonight … wow. The generous hospitality of our hosts and the beautiful night we enjoyed was a sweet way to wrap up this leg of our tour, and helped us gear up for the next.
---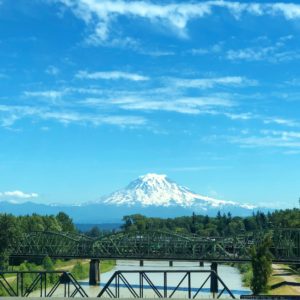 And that's when we left The Upper Left … for now.
Episode 3 — Idaho & The Midwest — coming next!