And now, here it is … Tour Stories, episode 3: We Would Drive 3,000 Miles. (This title is best appreciated when sung to the melody of that song from the 80s "I would walk 500 miles" … go ahead … sing it … now that'll be in your head all day. You're welcome!) Enjoy!
---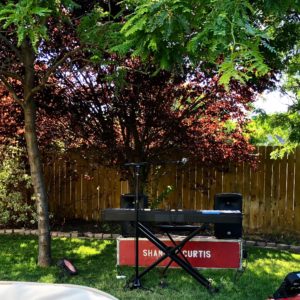 This pic doesn't really even come close to depicting why I loved our time in this yard in Meridian, Idaho — because what you can't see here are the heart-first, let's-really-go-there conversations I got to have with dear people before and after the show, not to mention the loving and warm reception we received from this awesome family. What a sweet time.
---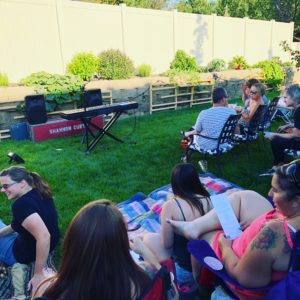 Our host moved into his new house — also in Meridian, Idaho — a little over a year ago. Since then, he's planted some things, and watered them, and now they're growing. Beautifully. On this night, his yard was filled with people he's tended to in his life in a similar way. We could see evidence of that same kind of verdant beauty in the relationships they share, and we got to taste a little bit of it ourselves, through sweet moments of conversation and connection.
---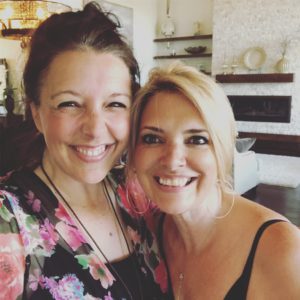 I met this woman 4 years ago in a friend's backyard at a house concert. A year and a half ago, I had the privilege of getting to know her heart in a profound way when her daughter engaged me to write a personal song for her. On this night, she invited us into her new home in Eagle, Idaho, along with droves of people who know and love her, and we spent an evening together, really going there with each other over stories and music and conversation.
Sometimes I'm flabbergasted by the good fortune I have to be invited into the lives of people like this woman, and like her daughter, and I thank my lucky stars that somehow, some way, the universe conspires to bring us such joy in that intersection, in that invitation.
---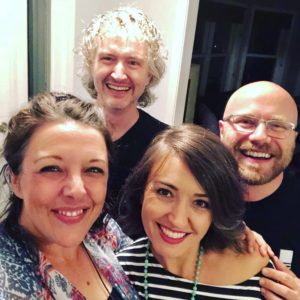 If you can believe it, these are our 2am faces, after an unbelievably beautiful evening in a backyard in Boise, Idaho filled with friends, followed by long, wonderful conversation with these two dear ones, with whom we are so, so grateful to be friends. This was our 7th — seventh! — house concert with this family. These two enrich and bring so much joy to our lives. I'm grateful to be making my journey on this planet the same time they are. I'll never stop being amazed and grateful that friendships like these are part of our lives, and that music is what brought us this gift.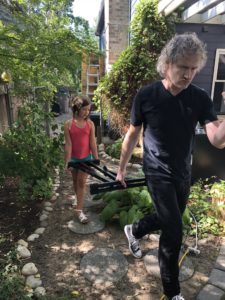 Bonus pic! This dedicated stage tech apprentice has helped Jamie load in and set up all the gear for as many house concerts as I can remember. Since she was big enough to carry stuff. She's hired!
---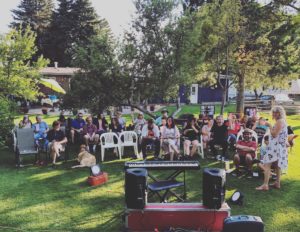 This is how you house concert. We couldn't have ordered up a more perfect night, with dappled golden evening sunlight and the greenest-ever grass and little white butterflies flitting about in Chubbuck, Idaho. With beautiful hosts who opened their home, invited us into their lives, welcomed friends old and new, and then stayed up to all hours with us eating sandwiches and getting deep about life. What a sweet gathering. What a lovely moment in time we all made together. Already can't wait to do it again.
---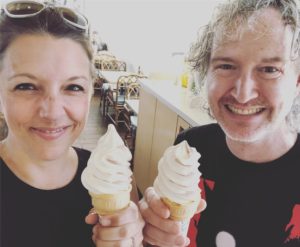 I know you were wondering, and the answer is yes: we found the ice cream.
I mean … you can't not stop for 75¢ cones at Little America.
---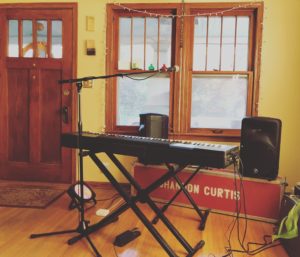 What an absolutely beautiful time with the brightest souls in this loved-in living room in Lincoln, Nebraska. Our hosts are the kind of people I want to be like in 30 years — wide-eyed, compassionate, fiery, and fiercely passionate people. Those qualities were reflected in the friends who gathered here as well. And some brand-new friendships were sparked here, too! What a joy. We really can't wait to come back and spend more time with these folks. Nights like this make me so grateful for what I get to do, and so hopeful for the world at the same time.
---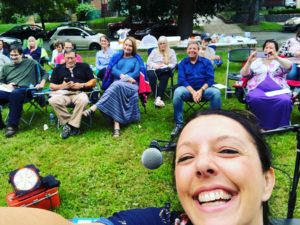 I couldn't get the whole crowd in a selfie because they were arranged in a wide semi-circle, but I did get some good friends in this shot in St. Paul, Minnesota. Friends we met because of music, friends to whom we now get to say "I love you" when we see them because of the years we've known them and the connections we share with them. Because they're the kind of people who show up. To life. To friendship. To community. Dang! I'm lucky to get to do what I do in community with such quality people.
---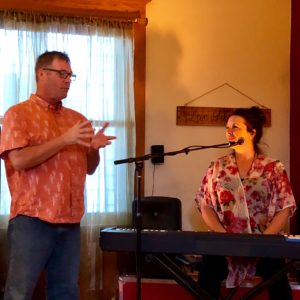 Something extra special about this photo from Cedar Rapids, Iowa, is that the person introducing me to his people here is, himself, an artist. He makes music, and films, and has a future theater production kicking around his brain. And he and his wife invited us to do our thing for their people in their living room. What a privilege. And what an amazing late-night conversation we got to have with them, too — about ideas and hurdles and triumphs and the journey.
---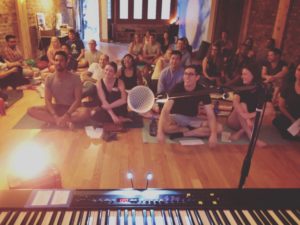 We got to have a little bit of home in Chicago, Illinois, where a Seattle-sister of ours now lives, and where she roped in an all-star cast of co-hosts to create sacred space for a community art experience in a yoga studio. What a sweet night in several different ways: the getting to do this with one of our favorite people, the meeting of new friends and kindred spirits, and the gathering in a space that's defined by the discovery of breath and balance while holding tension.
---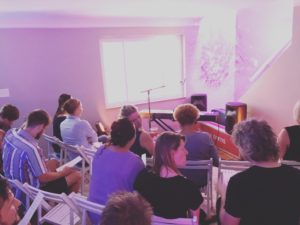 I snapped this moments before we began our first-ever house concert in Cincinnati, Ohio, at the home of one of our dearest friends, with the group of totally-down-to-go-there-with-us souls gathered here. What an awesome night. What a joy to share space with people who care about creating and being part of meaningful experiences with their fellow humans. What a thrill to have this warm, loving introduction to this town. We paired up two lovely friends to co-host the evening, and they welcomed us and their communities with such love and warmth. We are grateful through and through, and we can't wait to come back.
---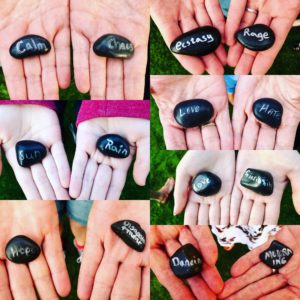 And that's why we drove 3,000 miles. 🙂
Up next: The East Coast, baby!