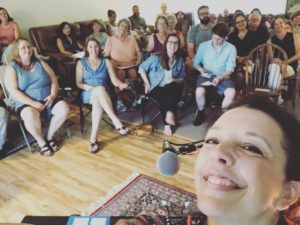 On this awesome night, a wonderful woman I met only one year ago invited us to her home in Randolph, Vermont, which is the town in which Jamie grew up (!!!), and where they grew up together, just a couple years apart from each other in school. She has become a sweet friend this last year, and her invitation brought Jamie back to a place he hasn't been since sometime in the 90s. It was the sweetest homecoming for him and a loving introduction to this community for me, with seriously wide-eyed, open-hearted, engaged people who really dove into all of this with us. I'm so grateful.
---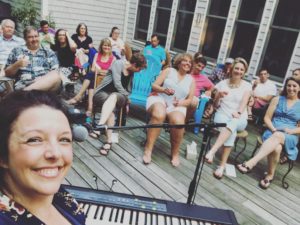 This is what happens when a long line of seemingly separate but invisibly, inextricably linked people in moments of decision say yes. Yes to coming "all the way to Brunswick, Maine." Yes to opening up to something new and unknown. Yes to inviting community to come along to co-create the experience. Yes to reciprocal vulnerability that plants the seed of friendship. Yes to feeling. Yes to walking beside each other on the path. Yes to letting that plant grow in that unexpected spot and being utterly thrilled with the blossoms that arrive on a late summer evening that was so still and sacred it made my skin tingle. Here's to yes.
---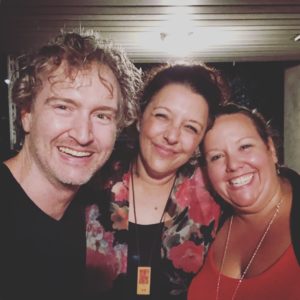 This was the 6th (sixth!!!) time we've done a house concert with this woman. She's the reason we were introduced to Pottstown, Pennsylvania all those years ago, the reason we have subsequently been given the gift of friendship with so. many. wonderful. people there. Some of our absolute favorite on the planet. I'm so grateful this lady took the leap with us.
---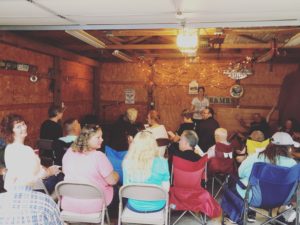 Thunderstorms triggered Plan B for this night's house concert in Royersford, Pennsylvania:The Garage. And it was absolutely magical in that huddled-together-in-a-rain-storm-at-summer-camp kind of way, complete with long conversations that stretched deep into the night, where stories were told and secrets were shared and hearts felt safe to open up a little more than usual. And where tight hugs at the end of the night were evidence that friendship has begun there, is growing there. I feel grateful to my bones that we got to share this space with these people.
---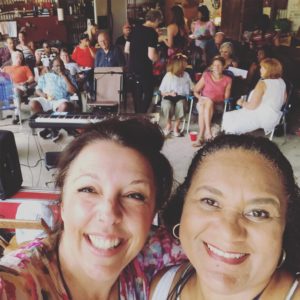 History. In a barn pavilion on a 249-year-old farm. Friends gathered there. People who love each other. And not that always-easy-breezy kind of love, but that showing-up-over-and-over-and-giving-grace-to-one-other kind of love. And somehow we got invited into that history 6 years ago when we met the first of this crew. And now we also have history. Because of year after year of heart-opening and truth-telling and mystery-seeking and love-giving. Bam. 6 years of history. Made moment by moment. We added another really beautiful chapter to this history this year with a warm, wonderful time in Pottstown, Pennsylvania.
---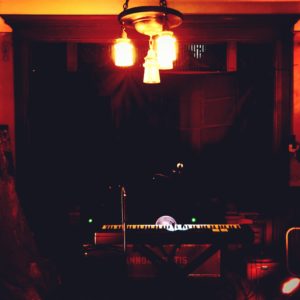 The parlor of this 1910 Brooklyn, New York brownstone was the scene of convergence of humans taking a chance on each other … reaching out, stepping out, showing up … and the result was oh so sweet. This night was about family, and friendship, and new heart-connections, and I'm so grateful for all of it.
---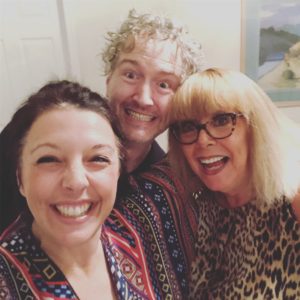 You should've seen how beautifully-prepared the backyard was for this house concert — gorgeous green grass under tall shade trees connected by golden strands of market lights — it was perfect. Annnnnd thennnn … thunderstorms. Sometimes the universe and Mother Nature conspire to thwart our best-laid plans; and in this case, they conspired to bring us a concentrated bottle of effervescent joy in the foyer/living room/dining room-turned-packed-venue in our hosts' house in Matawan, New Jersey. What an awesome experience. We were like champagne — sparkling energy barely contained by the walls surrounding us.
---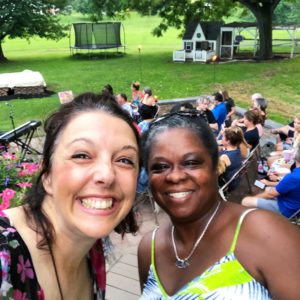 The reason for my cheesy smile is that I'm standing next to one of my favorite people, one of our co-hosts for this night's house concert at this gorgeous spot in Douglassville, Pennsylvania, moments before the show started. Our friendship with this lady is an example of the totally unexpected and ridiculously amazing blessings that this wildly non-traditional life of ours has brought us. And tonight, she co-hosted with a friend, with whom I am looking forward to building this kind of friendship, too, because she is just freakin awesome. Can you believe we met these people because of a wild proposition that we'd come play music and tell stories in their backyards? Can you believe they said yes? I honestly can't believe this beautiful life sometimes.
---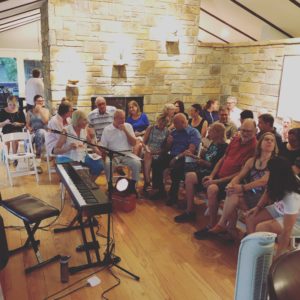 The longest, loudest thunder roll outside. And an actual lightning strike nearby! Inside: the hum of people in pursuit of changing the world, the electricity of all of us meaningfully engaged with each other. You should've seen the glow on all these faces. What a special time in Falls Church, Virginia.
We met our hosts 3 years ago when we came to northern Virginia for the TEDx conference at which we presented. So there was a sweet reunion of people from that time there that night. And there was also the intersection of new people, the beginnings of friendships I can't wait to explore and nurture.
Isn't it wonderful how when you find yourself exploring a theme or idea or question in this wild, mysterious universe, that you can look to your right and your left and see others riding a parallel wave in their own lives? I'm routinely astonished at the connections our hearts get to make with such awesome people. And I'm so grateful. So very grateful.
---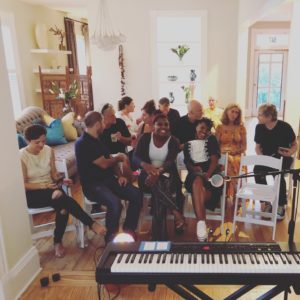 When you set a record for late-night-post-concert-hang-with-your-host by, like, a LONG shot, and you go to bed at an hour when you're barely beating the Sun's appearance on the next day — you know it's been a special night. Wow, we live in an astonishing world filled with some truly astonishing people, and what a deep treasure to get to share space with some of them here in Charlottesville, Virginia.
---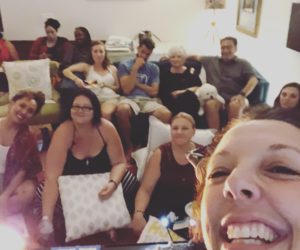 Some days you find yourself on the opposite side of the continent from where you live, next to a whole other ocean than the one you know, in the living room of a soul you've not met in person until now, and you find … your people.
What. An. Awesome. Night.
This group of (mostly, but not entirely) women welcomed us into their magical sisterhood on this evening in Wilmington, North Carolina, with the most welcoming, warm, inviting spirit, and they totally went wholeheartedly with us on the journey we offered them. You know how you share an experience with someone(s) and afterward you could swear you've known them forever? Yeah. It was like that.
I am grateful to my bones.
---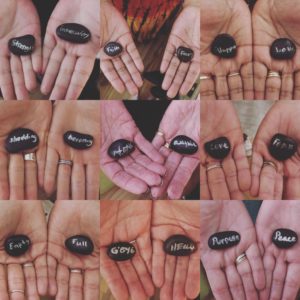 And that … brings us to the end of this summer's East Coast swing.
Midwest + Texas up next!