Guess who has recently started recording her next album? It's me!
And guess who is planning her first music video for that album? Also me!
And guess who she wants to be IN that music video? It's YOU!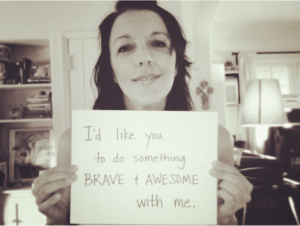 But this is way more than just a traditional music video. It's a bit of an ambitious project that I hope will help and inspire those who see it. So, specifically, I'm looking for a number of courageous people who want to do something brave with me that will help and inspire others.
But first, I need to tell you where this all started. I know this post looks long, but I really hope you'll stick with me, read through to the end, and decide you want to be a part of this project …
---
It started a few days ago when I was scrolling through Facebook and came across a video posted by a brave young girl. I watched the video with no sound, but sound wasn't necessary, because the video was of her, sitting on her bed, holding up a series of handwritten note cards to her computer's camera. The cards told the story of how she had been a very young victim of sexual abuse, and how as a pre-teen she began dealing with the pain of that experience by cutting herself. The cards told about how as a teenager, she attempted suicide a couple of times. She wrote about how she felt so alone and had no one to turn to.
But then the cards told how she discovered she wasn't the only one to have experienced the things she'd experienced, or felt the things she'd felt. She was able to find help for her emotional trauma, and began talking to others about what she'd been through. She made the video to let others who have had this kind of experience know that they are not as alone as they feel, that there is hope in overcoming scars from the past, and that she is glad to be alive.
Now, I've not had the same life experiences as this brave young soul, but I am inspired by her. And I can only imagine that her message must mean the world to others out there who have shared her experiences. It resonated with me in a really timely way, too, because the first song we've been recording for my new album is about empathy. The song is a conversation with someone who's going through some hard stuff, letting them know that they're not alone in the struggle. I felt like the girl in the video embodied *exactly* the message of this song.
And then the other night, I found myself wide awake at 3 in the morning, unable to sleep. And in the midst of my stirring, an idea popped into my not-so-sleepy head: what if we made a video for this song of mine that could bring that same message of "you're not alone" to those who see it?
Every one of us on this planet carries or has carried some struggle or challenge or pain. Do you remember a time when someone reached out to you and told you they understood what you were feeling because they'd been there, too? Do you remember how important that was to you? I want us, collectively through this project, to bring that message to people who need it.
---
So here's what I want us to do:
1) I want you to think about some challenge you've faced, some struggle you're currently in the midst of, or some pain in your past which you've found healing around. (And, by the way, I'm going to be doing this as well, and my husband Jamie has already told me he's on board, too.)
Maybe, like the girl in the video, you've experienced trauma, or perhaps you struggle with depression or anxiety, or maybe you're battling an illness, or have recovered from one, or maybe you've experienced loss or recently lost a job, or perhaps you have an ongoing challenge in your family life with an aging parent or a disabled child. Only you will know what yours will be.
2) I want you to write it down on one horizontally-oriented 8.5×11 piece of printer paper in thick, black Sharpie pen. Make sure the letters are written large and dark so it will be legible even on a little YouTube video. As examples of how it might read, here is what Jamie and I plan to write on our pieces of paper:
Me – "My first marriage ended in divorce."
Jamie – "I nearly drank myself to death. 11 years ago I was living in my car."
The statement should be brief enough to be easily displayed on that one piece of paper, and should concisely convey what you want to share.
3) I want you take a short video of yourself holding that paper up in front of you. The video should be approximately 10 seconds in length (so I'll have some wiggle room when I do the editing). It would be helpful if the video were done in a fairly well-lit space, and if it were filmed in a landscape orientation (i.e. if you're using your phone to record it, turn your phone sideways, as opposed to straight up and down. Like a movie).
4) Send me the video clip via WeTransfer, which is a simple free service to send files that are too large to send via email. Here's how to do it:
Go to wetransfer.com.
See the box on the left that says "Send up to 2GB."
Click the "Add files" button and select your video file from your computer.
In the "Friend's email" section, enter my email address: skc@shannoncurtis.net.
In the "Your email" section, enter your own email address.
If you'd like to include a message to me, you can write it in the "Message" section.
Hit the "Transfer" button at the bottom, and voila, your video file will be delivered to my inbox.
5) I will collect all of the clips that are sent to me and create a beautiful video collage of our collective experiences, challenges, and triumphs, set to an uplifting song about feeling another person's pain and letting them know that someone understands what they're going through.
When we send the video out into the world, it's my hope that people will read our messages, see themselves in our stories, be encouraged by the courage we had to share them, and find new strength to face whatever challenges they're facing in their own lives. I want us to spread empathy and courage and love.
---
Will you join me?
I'd like to have all your video clips sent to me by the last day of February, which is Saturday the 28th. But the sooner the better – so if you decide to be a part of the project, send me your video as soon as you can.
I know I'm asking a big ask, here. It's a vulnerable thing to let ourselves be seen. But I also believe that it's in allowing ourselves to be seen that we foster the kind of . And perhaps we'll also, as we do this hand in hand, bring some hope, healing, and inspiration to others who need it.
Love and other brave things — shannon