Today we launch the expanded 2nd edition of our best-selling house concert book! We learned a bunch of new things on our last tour that we're sharing with artists using our model, and we have a whole new section on how to build an entire tour of house concerts. Here's a silly book trailer I made for the update: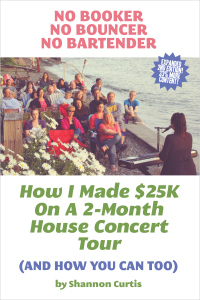 If you already purchased the ebook version, I believe you can snag a free update by logging into Amazon or iTunes or Nook. (Also available in paperback here.)
NEW FOR ARTISTS: If you'd like to go deeper with me and get personal advice on how to build your own house concert touring, I'm now available for one-on-one coaching. Email me to get info and schedule a Skype or phone meet-up. You + me = power team.
Also for artists: We have a new online community for artists who are doing / learning to do house concerts, and we'd love to see you there. Join us!