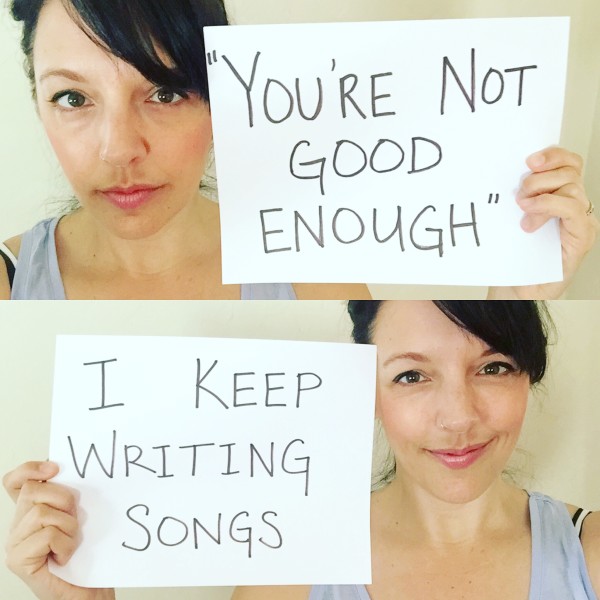 Two nights ago, I couldn't sleep. At all. For me, many times that means that there's an idea begging for my attention, and until I give it the attention it wants, I'm not going to get any rest. And so I lay there, stirring, thinking, working things out. Turns out the idea that held me hostage the other night involves YOU, and it involves the first single for the new album we're making, and it involves a NEW VIDEO PROJECT that I think has the potential to inspire. <3
I'm here to tell you all about it and ask you to join me in the project.
But first …
Can I share something with you?
Every single time — like, EVERY time — that I sit down to write a song or brainstorm ideas for a video project or take the "stage" at a house concert, there is a moment (and sometimes that moment can stretch into minutes / hours / days) when I am immobilized because of a quiet, internal battle going on deep inside my head. The battle begins with a little voice that whispers things like:
"You aren't good enough for this."
"Who says your ideas are worth anything?"
"Do you really think anyone will care about what you're doing?"
Has this ever happened to you?
Eventually, I push past that gnarly voice and get to work at whatever it is that I set out to do. But it's a struggle. Every time.
I know that I'm not the only one who struggles against this voice. Other artists have shared with me that it happens to them. Friends who have started businesses tell me they've battled this kind of self-doubt. People who have
gone back to school,
decided to raise children,
applied for a dream job,
written a novel,
started a non-profit organization,
begun taking guitar lessons,
run for political office,
bought some brushes and paint and decided to paint their heart on a canvas for the first time ever.
All kinds of people who have dared to start / go / do / create / begin are apt to hear the same little voice that I hear, telling them that they can't or that they shouldn't.
And yet … I believe that some of the most important stuff we do on this earth is work that starts with having to overcome that kind of self-doubt. I know this because when I see someone else blow past their fears to accomplish something they've determined to accomplish, I am INSPIRED. Like, "go home and try something new / write a song / do something to make the world a better place for someone else" kind of INSPIRED.
And I'm not talking about the emotional backstories they always air about athletes during the Olympics. I'm talking about regular, everyday Janes and Joes out there conquering their doubts to do amazing things. People like YOU INSPIRE ME.
IMAGINE … the POWER we have to INSPIRE others to go do GREAT things in their lives when we overcome our own doubts to do scary, amazing things in our lives. #whoa
So …. here's where I'm asking you to join me. The first single for my upcoming album is nearly complete, and it's about overcoming that self-doubt to go / start / do / create / begin. The vision I have is to create a video project — with your help! —  for this song that will INSPIRE and give COURAGE to everyone who sees it who may be battling their own self-doubt.
Will you join me? If so, read on …
Here's what you will need to join in the project:
– two pieces of plain white paper
– a thick, dark Sharpie pen
– a video camera (your smart phone or computer video camera will work fine)
– access to the internet to send me video files
Here's what I'd like you to do:
1) Pick one of the phrases I'll list here and write it out REALLY BIG on one of your pieces of paper. Make sure you write this statement with quotations around it (to illustrate that it's the inside-your-head voice talking). Here are the phrases to choose from:
– "You're not good enough"
– "You can't do it"
– "You're not smart enough"
– "You will probably fail"
– "You won't be taken seriously"
– "You don't have good ideas"
– "You're not pretty enough"
– "You're not handsome enough"
– "You're too fat"
– "You're too skinny"
– "You will be embarrassed"
– "You're going to bomb"
– "You will never finish"
– "You should give up now"
– "You will be rejected"
– "You are too afraid"
– "You don't matter"
– "You have no right to do it"
– "You have the wrong motives"
– "You are too flawed"
– "You shouldn't do it"
– "You're not strong enough"
If you have an idea for another "You" statement like this that you'd like to write, send me an email and tell me your idea! (skc@shannoncurtis.net)
2) On the second piece of white paper, write another statement in BIG, BOLD, BLACK LETTERS. This statement should start with the word "I" and should end with some accomplishment you have achieved in your life — or even something you've only just *begun* to work at — that required you to get over the self-doubt statement you wrote on your first piece of paper. Your statement must be no longer than 5 or 6 words total, so keep it super brief. Do not write this statement with quotations around it (to illustrate that this is your voice talking). What you decide to write is totally up to you, but here are some ideas to get you thinking:
– I started my own business
– I went back to school
– I raised 3 kids
– I wrote a book
– I learned photography
– I made a movie
– I learned how to play piano
– I learned French
– I publicly recited my poem
– I completed a marathon
– I auditioned for a play
– I got my Masters degree
– I got my GED
– I danced in public
– I coached little league
– I ran for office
– I started a non-profit
– I wrote a song
– I gave a speech
– I wrote a memoir
3) Record a video of yourself holding each sign up to the camera. Here are more specific instructions:
– Set yourself against a plain background — a plain wall or a closed curtain, for example.
– Make sure that your face is well-lit. If you're outside, avoid direct sunlight in your face.
– Make sure there isn't any backlighting behind you — that'll make it harder to see you in the video.
– Position the camera HORIZONTALLY, not vertically. (Wide, not tall. Hold your phone sideways.) We will not be able to use vertical video. 
– First, hold the "You" statement sign up to the LEFT side of your head, and film yourself in that position for at least ten seconds.
– Then, switch to the "I" statement sign and hold it up to the RIGHT side of your head, again filming yourself in that position for at least ten seconds.
– Then, give me a third shot with just you on camera — and maybe a little smile? — for another 3 or 4 seconds. 🙂
– We won't use any audio from your video clip, so you don't need to worry if there is background noise while you're filming.
4) Send me your video clip(s) via WeTransfer, which is a simple free web service to send files that are too large to send via email. Here's how to do it:
– Go to wetransfer.com on your computer. (WeTransfer has a free mobile app you can use to send the file if you're on mobile!)
– You may have to click an "I agree" button to agree to their terms of service to continue.
– See the box on the left that says "Send up to 2GB."
– Click the "Add files" button and select your video file(s).
– In the "Friend's email" section, enter my email address: skc@shannoncurtis.net.
– In the "Your email" section, enter your own email address.
– If you'd like to include a message to me, you can write it in the "Message" section.
– Hit the "Transfer" button at the bottom, and voila, your video file will be delivered to my inbox!
=============================
We'll take the clips we receive and compile them into a beautiful video collage that tells the message of this song through the power of your stories. I think it's going to be really, really amazing. Because YOU are amazing.
*** The DEADLINE for submitting your clip for this project is two weeks from today: THURSDAY, MARCH 24th. ***
We hope to be able to use all the clips we receive, but please understand that, depending on the number of submissions we receive, we may have to make selections for the final video edit. If that's the case, we have a plan for the overflow submissions to be showcased also as part of the project. We want you to know that we are grateful for every submission we receive for this project, and every one of them will be honored for the cherished gift that it is.
THANK YOU … for reading this far. 🙂 And for being a steadfast and vital part of what I do. You inspire me every day. Let's do something awesome together.
xo-shannon