Hello, friends! I hope you had a great weekend.
One thing that made mine great is that we took over 60 free CDs to the post office to be mailed out to all who claimed them on Free CD Friday, and with your help we celebrated an additional $233 raised for cancer research!
Add that to the $330 Jamie and I pledged on Free T-shirt Monday, and that's $563 raised so far for the Fred Hutch Cancer Research Center. Way to go, team.
And TODAY … today is: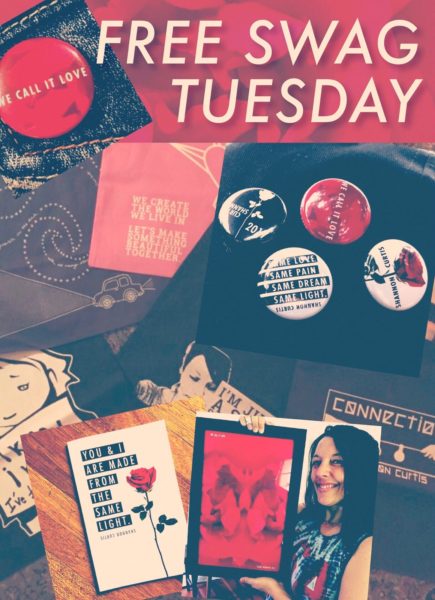 It's our third and final giveaway day of the season, and we're giving away all kinds of swag:
Visit our online store, pick out any one swag item in stock —
like an awesome button pack,
or a pretty poster,
or an adorable silkscreened tote bag,
or a lyric & story book,
or a coloring book
— pay for shipping, and it's yours for FREE.
Limit one item per household.
(It's the honor system, kids! So, really: one free item, k?)
Offer ends tonight at 12 midnight.
BUT WAIT …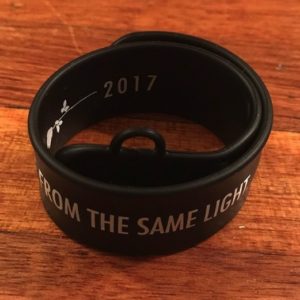 … you can also enter to WIN MY ENTIRE MUSIC COLLECTION on this super cool "Same Light" USB slap bracelet. How?
I'm so glad you asked. When you pick out your swag item, you'll have the opportunity to name your own price. If you put $0, it's yours — on us.
But if you choose to pay any amount greater than $0, then two things will happen:
1) We'll donate the amount you choose to pay in its entirety to the Fred Hutch Cancer Research Center's fundraiser in the name of our friend Beth Caldwell — adding it to the over $500 that we've raised so far this month to help fund research to find a cure for metastatic breast cancer); and also …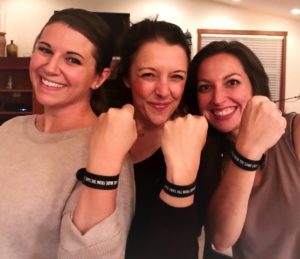 2) We will enter your name in a drawing to be one of THREE lucky people to win the coveted "Same Light" slap bracelet. This hot item from this year's tour is really freakin great — it's a USB flash drive that contains every song that I've ever recorded and released as a solo artist. (Like, nearly 14 hours of music.)
It's a $100 value, and if you're one of the 3 names we draw from the hat, we'll tuck a bracelet into your swag package when we send it to you.
But you know what?
That's not all.
We want to sweeten the deal a bit more:
If you donate $5 or more for your free swag, your package will arrive with a surprise gift from me and Jamie.
AND for each increment of $5 that you donate, we will increase your odds of winning by entering your name an additional time into the drawing for the bracelet.
(For example: $1 – $5 = one entry, $10 = two entries, $25 = five entries, etc!)
We are so eager — with your help — to make a contribution to the work being done at Fred Hutch in honor of Beth.
Please join us in helping fund research that could stop 113 people from dying every day because of metastatic breast cancer.