Today we officially begin the search for hosts for The 2014 Summer House Concert Tour. Hooray!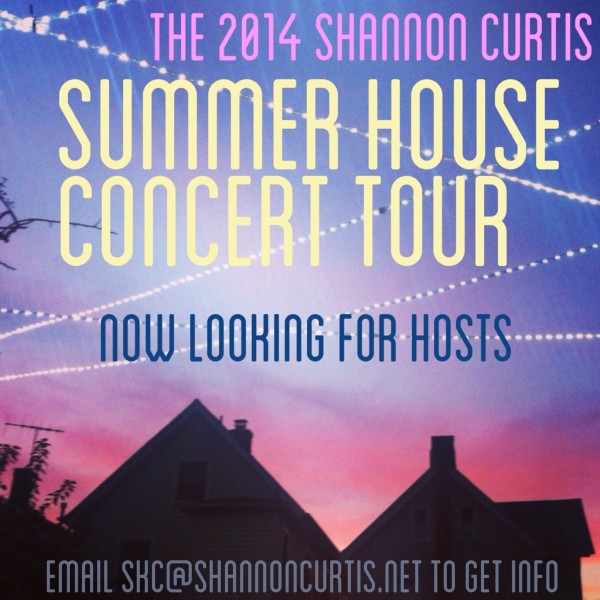 If you're interested in hosting a show, please send me an email right away and I will send you details about how we'll organize the shows and create an unforgettable experience with you this summer.
There's a lot of info I want to share with you, but the two most basic things about being a house concert host are these:
1) It doesn't have to cost you anything to host a show since our shows are funded by guest donations.
2) The only requirements to be a host are that you have a space to gather (backyard, living room, garage, etc.) and that you're able to get a minimum of 20 of your adult friends to come to the concert.
Want to learn more? Email me at skc@shannoncurtis.net and I'll give you all the juicy details. We'd love to bring a concert to your house this summer.
---
Why we live for summertime
It was two years ago that Jamie had this crazy idea: "What if we were to do an entire summer tour of only house concerts?" And so we put the word out to see how many of you would want to host shows. We got more response than we could even handle on our very first Summer House Concert Tour in 2012, and it was an amazing summer.
So last year we went for it again, and we ended up doing 50 shows all across the country. In living rooms, backyards, and garages, from Seattle to New Jersey, Wisconsin to Houston, The 2013 Summer House Concert Tour gave us night after night of unforgettable, magical music-sharing experiences with wonderful people we feel lucky to now call friends.
It went so well that other artists began asking us how we did it. So we wrote a book about it. And The Huffington Post wrote about it. And we're utterly convinced we're the luckiest people in the music business.
Why? Because of you.
Can I be honest?
It can be difficult to live and work as an artist. There is nothing steady about our jobs, nothing constant. It's tough sometimes to make ends meet and often impossible to see where the next opportunity is going to come from. And then to maintain the open spirit and vulnerability required to be creative — that's another challenge altogether.
But we believe we're doing what we're meant to do, and so we remain (perhaps stubbornly) dedicated to this life.
However, there is one shining light throughout all of this that keeps giving us courage and motivation: YOU, and your love and support for us. Especially when it comes to the house concert experience: so many of you have opened up your homes and invited us into your lives and allowed Jamie and me to become a part of your communities and families.
Without your enthusiastic participation with us, none of this is possible. I can't imagine doing music any other way than with your partnership and support. We are so very lucky, and so very grateful.
---
So, let's plan a house concert tour! Email me for more information.  — shannon