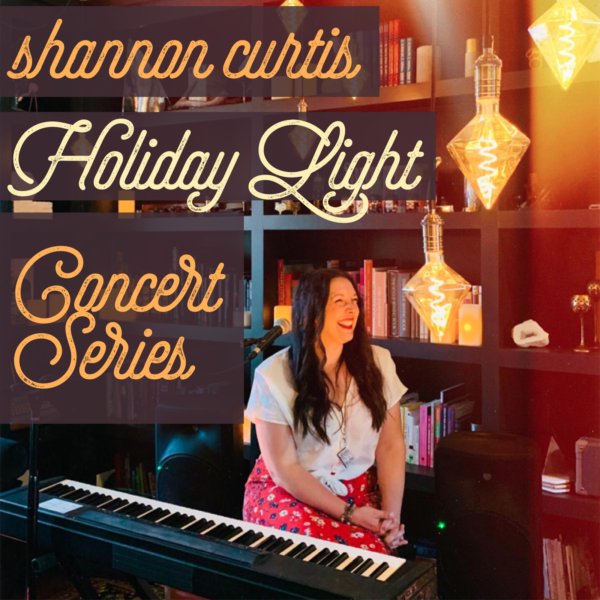 What is it? ☛ It's all the magic and beauty and connection we've experienced during our summer house concert tours, but during the holiday season.
What's the show? ☛ It's an immersive narrative experience consisting of new nostalgic stories, woven through a collection of audiencefavorites, chosen from all my records we've ever made going back to 2007, that share the lyrical theme of … light. ✨
When & where is it happening? ☛ On a limited number of dates between Thanksgiving and Christmas, in our hosts' homes/offices/private spaces in Northern California and the Pacific Northwest.
---
Hosting a Holiday Light concert would be ideal for:
Someone looking to give a special gift to their family and friends this holiday season. You can't exactly put a bow on it, but, wow, what an unforgettable gift.

A small business owner looking for a unique way to celebrate the holiday with their employees, colleagues, or clients. A private concert is a pretty classy and unique twist on the traditional office holiday gathering.

A group of friends — like a women's group, or a book club, or a recovery or support group, or simply a like-hearted group of humans — who would all want to pitch in to collectively sponsor the concert as a memorable, intentional, and meaningful holiday gathering with one another.
This year, Jamie and I have set aside a limited number of dates between Thanksgiving and Christmas, on which we'd love to share some holiday light with you.
Because this series will take place during the ramp-up to the winter months, and because it'll be such a relatively small number of shows, we're doing things a little differently than we do for our annual summer house concert tour.
---
Some things that are the same:
We'll do these concerts in private spaces, just like our house concerts.

Each concert will be hosted by someone (maybe you!) who wants to share us and what we do with the people in their lives.

Every concert will be a meaningful experience of connection, celebration, and illumination.
---
Some things that are different:
The regions to which we'll travel for these concerts will be limited to Northern California and the Pacific Northwest.

These concerts will not be donation-based; there will instead be a flat fee to reserve a date in the Holiday Light Concert Series.

You get to choose your own date from the dates we've made available on our calendar.
---
If the idea of hosting one of these (very limited!) concert experiences sounds interesting to you, we'd love to hear from you.
Message me today at skc@shannoncurtis.net, and I'll send you our Holiday Light host guide — it has all the information you need about how we'll organize the concert, how much it'll cost, what dates are available in your region, and how to choose and confirm the date you want.
☛ Two things you should know:
1) Dates will be confirmed on a first-come, first-served basis.
2) We're accepting applications now through Friday, November 1st.
So don't delay! Message me today and let's make some holiday light together.