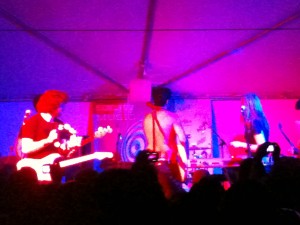 Hi there! I'm writing from the Jetta on the way home from my first ever trip to the SXSW music festival in Austin, TX, and wow! what a fun time it was. We saw so many great bands and artists — there is every kind of music under the sun streaming out of open doorways and windows of venues all over downtown Austin. So cool.
The first day we were there, Jamie mixed a show for singer/songwriter Chris Bathgate from Ann Arbor, MI. He's fantastic! I couldn't get his song "In The City" out of my head for days.
Later that night, we saw the band I was most looking forward to seeing at the festival — The Dears from Montreal — and they completely lived up to my very high expectations. Front man Murray Lightburn told us before the set started that he would be turning 40 at the stroke of midnight and that he had been "rocking in an independent fashion" for 20 years. He certainly has the poise and confidence of someone with 20 years of performance under his belt, but also every bit as much passion as if he were still 20 years old. He and the band were AMAZING. He came out into the crowd during one song and gave hugs to a bunch of people, including Jamie! I love and highly recommend their epic new record, Degeneration Street. We ended up going to a total of three Dears shows while we were in Austin. So great. The photos I posted here are of a couple of those shows.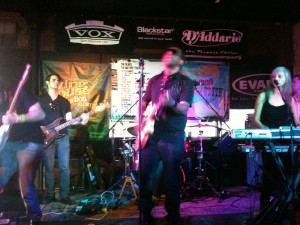 Jamie also mixed a couple of shows for our friends Glasser from New York. The first show, which took place inside a church-turned-music venue for the conference, was transcendent. Cameron Mesirow's soaring and angelic voice was made for a setting like that, and the whole audience was transfixed for the seamless entirety of the show.
We made a couple of trips to the west side of town where another of my favorite bands was playing a series of shows all week: The Hundred Days from San Francisco. If you have a chance to see these guys on the west coast, you should definitely take it. They make high-energy infectious songs that make me want to dance around like a school girl.
And now I'm exhausted and very much looking forward to sleeping in my own bed when we get back to LA tonight. Tomorrow, it's back to work on my new record! Stay tuned for news about the first single release VERY soon.
xo-shannon