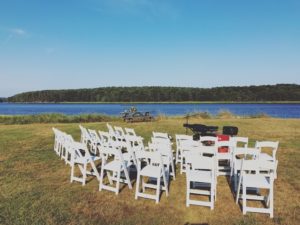 You all, Maine was *made* for summer, and what a treat it was to be there for the second time this year. Our hosts in Phippsburg welcomed us so graciously, and set the stage for a really beautiful evening together with friends. It was a special time. Especially the part at the end of the night where we got to hang around having dig-deep conversation and giving rubs to their big, lovable dogs in the living room.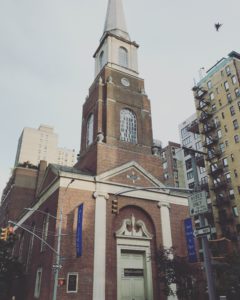 Our house concert in New York, NY wasn't *actually* in a house. Instead of hosting us in her apartment building, our host for the evening hosted the concert in her house of worship: this beautiful old church in central Manhattan. The building greeted us with a big banner that read, "Open Minds & Open Hearts," and that instantly made us feel right at home, and set the tone for a really wonderful night with some lovely New Yorkers.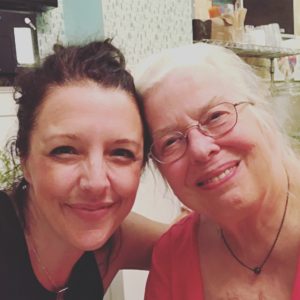 This was our second house concert with a dear friend in Brooklyn, NY. It was an intimate and special night, as we set up in the parlor of her gorgeous 1800s brownstone. Because of the small space, I was seated just a few feet from the front row; but instead of it being an uncomfortable closeness, what I felt was an intimate and deep connection with the people seated there with me. There were tears in that room that night — from both sides of the "stage." What an honor it is to share that kind of emotion with people over an experience with art.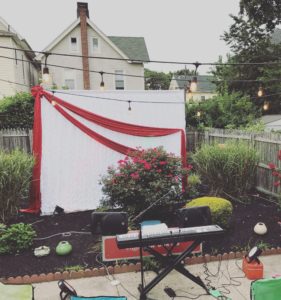 The next night we were just over the river in South Amboy, NJ, to do our fifth house concert with a wonderful family we've come to love and cherish over the years. Every year, they deck out their backyard with pretty decorations for us. And every year, they prepare the *most* amazing spread of Greek food you could ever dream of. We always leave this house full in heart and belly, and this year was no exception.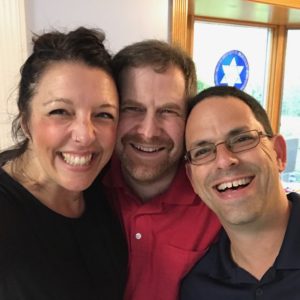 One of the most original and dearest members of our supportive community was a co-host for our first-ever house concert in Bethlehem, PA. He roped in his best friends to co-host the concert at their house, and it was such a rewarding time. This was one of those nights that I found myself deep in conversation with a woman after the show — I think we talked for an hour and it seemed like a blink. At the end of our conversation I looked over to see Jamie, also deep in conversation with another couple of people. We packed up and got on the road late that night, but that conversation and connection — that's the good stuff.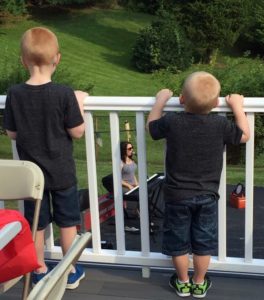 We go out and do concerts for people every day. We do concerts in the homes of almost perfect strangers. We do concerts in the homes of people who were once strangers, but who became friends through music. And some that become more like family over the years. But every once in a while, we get to do a concert in the home of actual family. Jamie's cousin and his wife hosted us in Springfield, PA for the first time this summer, and I have to say: there isn't much better feeling than when your flesh and blood (and family by marriage, too!) gives such an endorsement of what you do that they invite you into their own home to share you with their friends and neighbors. It really meant a lot to us that Jamie's family rallied around us in that way. And how cute is this sound check pic with their kiddos peering on from the deck?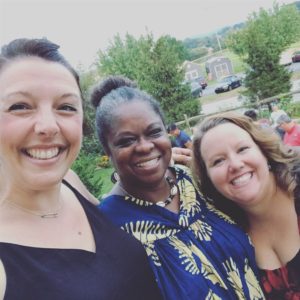 The ladies who co-hosted our show in Douglassville, PA fit into that category of strangers-turned-friends-turned-family. Five years ago we showed up in the backyard of one of these women, and five years later we give long hugs when we see them. It's hard to describe how lucky I feel that we get to have people in our hearts in this way, all because of hitting the road and doing music in the way that we do. And what a wonderful, connective night: you could hear a pin drop on the backyard patio that night in Douglassville. I'm always so grateful when a group of people brings themselves so fully to the experience we're sharing together.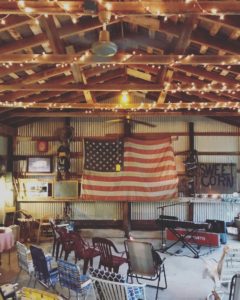 Picture an old barn on an old farm, one on which the same family has lived for 11 generations. Now imagine it's been lightning-and-thundering and pouring down rain all day on the tin roof, and lights have been strung in the rafters, and then the rain breaks just in time for a cozy gathering of friends. That was the scene for our first of two shows in Pottstown, PA. After we were done in the barn, the gathering continued *late* into the night, in the family room of one of our co-hosts, as a smaller group of us shared openly and wrestled into the wee hours about matters that seem to be testing the bindings of our nation and the strength of our hearts in this time. We didn't come up with all the answers that night, but I know that at the very least my heart was made stronger by that time with those friends.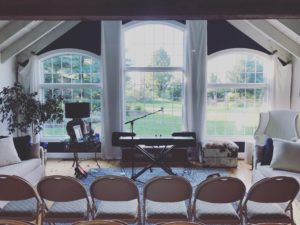 Our second concert in Pottstown, PA was held in the beautiful home of hosts who live literally just around the corner from the previous night's hosts. I mean: how cool is it to have a two-night stand in a small, rural town, and that our commute from one show to the next was only a block and a half? That would never happen on a "regular" tour. Another thing that wouldn't happen on a regular tour: our hosts noticed last year how much Jamie enjoyed the chocolate cake they had at the concert, and remembered that he likes a tall glass of cold milk with it. They made a special trip to get milk from the store for Jamie, and that chocolate cake was every bit as good as it was last year.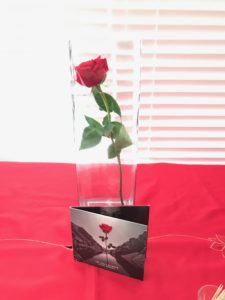 This was the second year in a row that we've been in the living room of our hosts in Leesburg, VA. We absolutely love these two. They always welcome us with so much warmth and love. Their whole house was dressed up with beautiful red roses around every corner, to amplify the theme of our record this year. I love the conversations we get to have with these two after all the guests have gone home. They're young parents, and creative people, and people-people, and I cherish getting to talk about life with them when it's just the four of us left at the end of the night.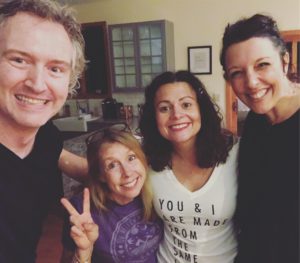 The night we were scheduled to be in Charlottesville, VA was just 9 days after the violent attacks by white supremacists there that rocked the nation. Our host called me a few days after the attacks and wondered what we thought about turning the house concert into an opportunity to raise money for the victims of that day's horrible events. It took about 2 seconds for us to say yes, and so we set about rapidly putting together a fundraiser and a live broadcast of the concert so that our community could join in from around the world.
It was such an emotional night — hearing our host recount her experience as she watched Heather Heyer (the woman who died in the attack) receive CPR after being hit by the car, and of her experience treating people who had been pepper sprayed (she treated people who were there to counter-protest the hate groups, and she treated people who identified themselves as white supremacists, too), and her experience of having a gun pulled on her by a white supremacist as she sought refuge in a church parking lot. If there ever was a place and a time that we all needed to recognize, embrace, and lift up our common humanity, it felt like that night in Charlottesville was the night.
Also: the day of the Charlottesville concert happened to be the day of the solar eclipse. And …
Don't we all stand up
When the moon crosses the sun?
Every one of us, taken by wonder
Don't we all lay down and cry
When the night swallows the sky?
You and I are made from the same light
Stay tuned for another episode of tour wrap-up, coming soon …