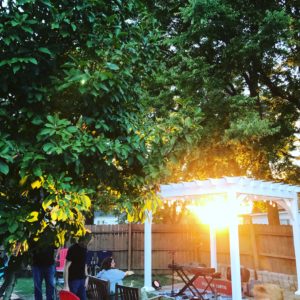 And then we started our trek back west. It feels like a milestone when you make that turn on the highway and you start chasing the sunset again. The Midwest welcomed us so warmly. But not too warmly! It was magically, unseasonably mild and dry for southern Illinois in August, and our first midwestern night in Carlyle was just lovely. The cicadas were powerful. And it was a pleasure to share the show with a backyard full of theater rats and musicians — I suppose that's what you get when your host is the high school choir director.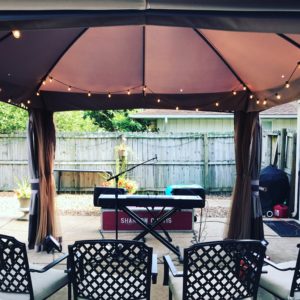 The following night, we were just down the road in Fairview Heights, Illinois. Our first-time hosts had a picture-perfect backyard patio setup for us, and their friends who filled the space were wonderful. I think the audience was about 97% women. It was great. It was one of those nights when I really felt like we were all in the experience together, like we could feel each other's tears in the sad parts, enjoy each other's laughter in the funny parts, and you could hear a pin drop in the silences. I hope we get a chance to go back.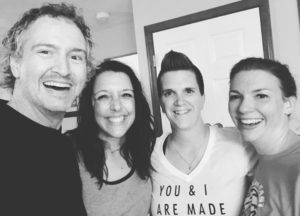 Some dear friends hosted us the next night in Shiloh, Illinois. A married pair: one is a Spanish teacher, and one is a minister. Our minister friend likes to tell people, "I don't know if it's what she calls it, but I think what Shannon does is ministry." Knowing her big, huge heart, I take that as a big, huge compliment. And while we were there, she was about 2 months away from expecting their second baby! For whom she bought a "You & I Are Made From the Same Light" baby onesie, obviously. I can't wait to see pics of their new little munchkin in a matching outfit with her mommy.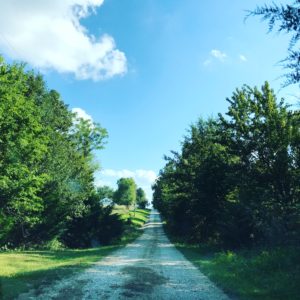 Yes. There is a town called Peculiar, Missouri. And we got to go there. Down this gorgeous gravel road lined with trees that sing in the daytime wth birds and in the nighttime with bugs. Our hosts there set up the most elegant farm concert setting for us — a lighted arch for the stage, a chandelier hanging from the oak tree. My goodness, it was cool. But the coolest part, for me, was the long and deep conversation we got to have with them when the guests were long gone that night. There's something truly special about baring your soul with kindred spirits on a covered porch into the wee hours of an August night.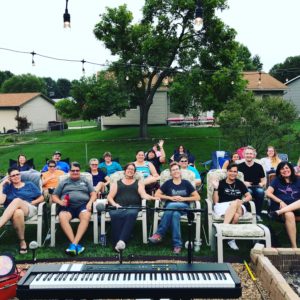 Ah, St. Peters, Missouri. This is a place that, a decade ago, I wouldn't have been able to point out to you on a map. But nowadays, after 7 house concerts with our dear friends here, it's a place that feels as much like home to me as anywhere because of the love and friendships we've gotten to grow and enjoy here. Every year when we do a house concert with them I think, "This is the best year yet." And then we come back the next year and I think, "No, this is the best year yet." Well. This year was the best year yet. Can't wait for next time.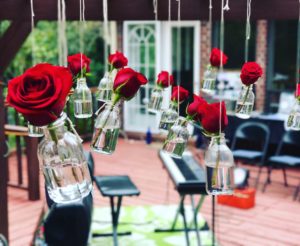 Our trip to Tupelo marked our first-ever house concert in Mississippi! In the hometown of Elvis Presley himself. But not in his house. Because it is tiny. And also an historical site from which I'm sure we'd have been kicked out if we'd tried to set up a house concert there, but I digress … Our hosts here were absolutely lovely, and they filled their back deck with roses and love to overflowing for us. Jamie and I really look forward to going back there to grow the seeds we got to plant with our new friends there.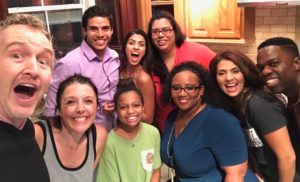 Hurricane Harvey made it so that we had to skip our planned trip to Houston this summer. We were so sad to miss our friends there; but we are grateful that they all seem to be doing alright, and that we were able to re-route ourselves safely north of the storm. We ended up a few nights later in San Antonio, Texas, for our second house concert at one of the most unique "house" venues we've ever played: a Mary Kay Dream Studio. It was absolutely magical. Our host runs the studio, and it's the perfect gathering place for her beautifully diverse group of friends from her church, her business, and her neighborhood. All with a portrait of Ms. Kay herself beaming down her blessings on us all as we shared the night together.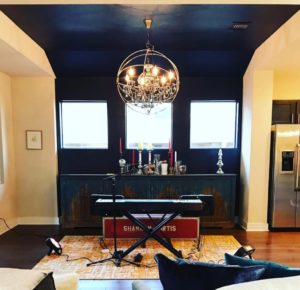 Up next was probably our best-ever night in awesome Austin, Texas. We met our hosts last year at a house concert, at another friend's house. This year, they hosted us in their decorator-perfect home (these guys have taste!, and also one of them does that professionally, so they have an unfair advantage 😉 ), and invited their group of friends and coworkers to come. And it. was. magical. I can't even recall how many different people I had the pleasure of talking with that night where the conversation quickly broke past the surface and dove right into waters of heart and soul. I really hope we get to go back there next year and do it again. And also: the queso in Austin is unbeatable.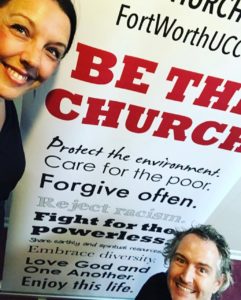 We ended up with an open night in Fort Worth, Texas, and so our house concert hosts there had the brilliant idea to bring the show to their church community the night before we brought the show to their house. And we thought that was a great idea, too. Especially after we showed up and saw this banner displaying the mission of this congregation. Right. On.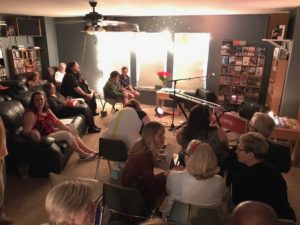 The following night, we set up in the upstairs movie room of our dear friends and Fort Worth, Texas hosts — a place we have come to love and cherish over the last few years of coming here. Our time that night was as intimate and emotional as it's ever been. But there was something extra-special in the air there that night: many of the guests who came, along with our hosts, shared with us ways in which they have been motivated in the last year to get up and actively participate in making our society look more like our values of shared humanity. We met a woman running for the state Senate! We met many others who were volunteering for the first time for social action advocacy efforts. We met so many who have found their voices and are getting their hands and feet to work to make the world better. It was so encouraging and energizing to be with them.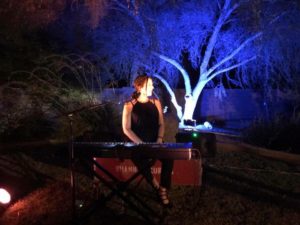 And after a couple of days driving from Texas, we landed in Scottsdale, Arizona. It was a unique house concert in that our hosts that night run a company, the mission of which is to help people who build housing developments to inspire and create community in their new neighborhoods. I mean … could there be a closer meeting of the minds as to what this company and what Jamie and I are all about? The women who run the company sponsored the event for their employees and clients. It was such an honor to have been invited to be a part of what they do.
And in the next leg … we are California-bound once again! Stay tuned …