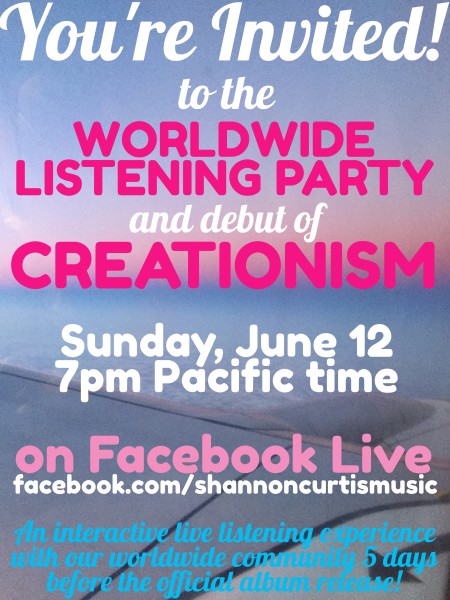 Please join us! 5 days before the official album release, we'll be debuting Creationism in a live and interactive experience with our worldwide community.
Jamie and I will play the whole album, front to back, song by song, from the actual reference discs from the vinyl manufacturing process, on our home stereo. And we'll broadcast the whole thing live on my Facebook music page. We'll talk a little about each song before we play it, and chat with you the whole time, live in the comments section.
How to join the party: on Sunday, June 12th at 7pm Pacific time, go to facebook.com/shannoncurtismusic and look for the live stream in the timeline. (It will be the second item down, below the pinned post.) Click the play button to watch the broadcast, and talk with us in the comments.
The broadcast will end by 8pm and will be removed from my page as soon as it's over. That means you have to join in to the actual live broadcast in order to participate in the album debut. You will not be able to watch it later.
Mark your calendars and we'll see you June 12th!