And the last big giveaway day of December starts … NOW!
It's FREE TOTE TUESDAY!!!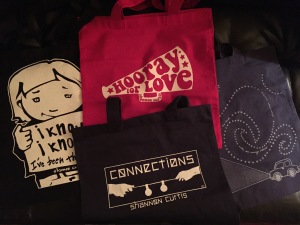 Visit the web store and pick out a handmade silkscreened tote bag, pay for shipping, and it's yours for FREE.
Limit ONE tote per person. Offer ends tonight at midnight PST.
But WAIT, you can also enter to WIN MY ENTIRE MUSIC COLLECTION on this adorable USB light bulb. How?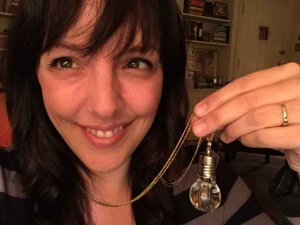 Glad you asked. When you pick out your tote bag, you'll have the opportunity to name your own price. If you put $0, it's yours — on us. But if you choose to pay any amount greater than $0, then two things will happen:
1) We will donate the amount you choose to pay *in it's entirety* to the Depression & Bipolar Support Alliance (adding it to the $681 that we've raised for the DBSA so far this month); and …
2) We will enter your name in a drawing to be one of FIVE lucky folks to win the coveted Light Bulb. This was our most popular (and most expensive) item on this summer's tour, and it's awesome — it's a USB flash drive that contains every song that I've ever written and released as a solo artist.
That's all my albums and EPs from 2007 until now, singles, B-sides, remixes, rarities, 2 complete live albums — about 7 and a half hours of music! Like, I could just about get you through an entire work day. (You're on your own for a half hour lunch. 😉
It's a $75 value, and if you're one of the 5 names we draw from the hat, we'll tuck a bulb in your tote bag when we send it to you.
While you're visiting the store, if you find anything else you want, don't forget to use the coupon code GIVE2015 to get 30% off your entire order. Happy hunting and good luck!!